ByOwner.com Reviews: Are They Worth the Savings?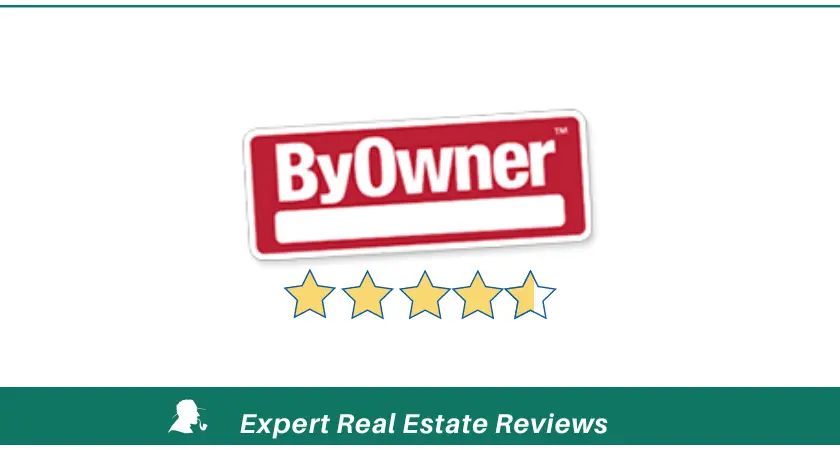 ByOwner.com is a For Sale By Owner platform, offering Flat Fee MLS services. Additionally, they provide a user-friendly interface for buyers/renters to easily discover homes that match their preferences.
The company offers listing on the ByOwner.com website for just $39. However, to get your home listed on MLS, you need to pay a steep price. They also do not provide their professional services nationwide.
Other For Sale By Owner companies like Houzeo, have near-nationwide coverage. They offer better services while helping you save top dollar on the listing agent's commission. Houzeo's tech-forward platform makes selling your property a breeze!
Key Takeaways
Pros: You can list your home on ByOwner.com website for just $39.
Cons: The platform offers only 2 MLS packages to choose from. On top of that, their full-service package is only accessible in specific regions and comes with a higher price tag.
Our Take: ByOwner.com is better suited for experienced sellers. Novice sellers may find it necessary to opt for the full-service package, which can be costly and limited to certain cities.
Let's delve into ByOwner.com reviews to see if they are the ideal choice for you.
What is ByOwner.com?
ByOwner.com is a real estate company that offers For Sale By Owner services. They primarily focus on providing exposure to your listing without a real estate agent.
ByOwner.com charges a flat fee instead of a 6% conventional real estate commission. However, your experience with ByOwner.com might not be a pleasant ride due to their noncomprehensive packages.
How Does ByOwner Work?
Home sellers can register with ByOwner.com, select the services they need, enter the required details, and pay a one-time cost. They provide their services in three packages, which are detailed below:
1. $499 Package:

Highlights:
This package is offered throughout the USA
This package is recommended to experienced sellers only
Services
6-month MLS listing with up to 50 photos
Listing syndicates to real estate websites like Zillow, and Trulia
Sellers' guides, real estate forms, contract forms, brochures, and yard signs
Disclaimer
As they are only licensed in 14 states, they rely on their network of brokers to complete the MLS listings in other states.
2. $1995 Package:
Highlights:
They provide this package only in those states where they hold the license
This package is most suitable for inexperienced sellers but comes at a high cost
Services
$499 package services
ByOwner listing
Agent consultation for pricing and marketing
Showing coordination and contract negotiations
Comparative market analysis and neighborhood pricing analysis
Closing coordination (title search & attorney)
3. $39 Package:
Highlights:
Provided throughout the USA
Recommended for experienced FSBO sellers
You can also list commercial properties and lands
Services:
Listing on the ByOwner.com website
7-days trial period
ByOwner Rentals & Buying Experience:
Filters: Shows potential tenants/buyers a variety of houses. The user interface is easy to use and includes several filters to simplify the home search process.
No Guidance: ByOwner.com does not provide any guidance to buyers or renters regarding repairs, offers, and negotiations.
Is ByOwner.com Affordable Than Traditional Agents?
Yes, as a 6% commission would amount to more than $15,000, as opposed to ByOwner's services, which are paid at a fixed rate based on the package you choose.
Although you might still be required to pay the buyer's agent a 3% commission even with the MLS. You can choose not to pay the buyer's commission, but this will make it harder to find buyers.
But there are other affordable ways to sell the house. Houzeo's Gold package, which costs $379, for example, is comprehensive and cost-effective. They provide you with MLS listing, stellar technology, and 5-star customer support to make your selling experience a breeze.
ByOwner Pros & Cons
| | |
| --- | --- |
| ✅ Pros | ❌ Cons |
| Professionalism | Displaying Houses of Non-Consenting Individuals |
| Responsive & Responsible Agents | Poor Customer Support Team to Handle Customer Issues |
| A smooth User Interface to Narrow Down Search Results | Flawed Ad Templates & Wrong Information |
ByOwner.com Reviews
ByOwner.com has a 4.6 out of 5-star rating on Google, based on 26 reviews. Although the majority of reviews are favorable, some ByOwner.com reviews have contradictory opinions about customer service. Let's have a look at some of them.
ByOwner.com Positive Customer Reviews
✅ Professionalism
One user has received 3 offers in a short period. The user was lucky to collaborate with a good agent, but you should always conduct an in-depth interview with your agent before hiring them.
✅ Responsive & Responsible Agents
The ByOwner representatives are skilled and walk you through each step in detail.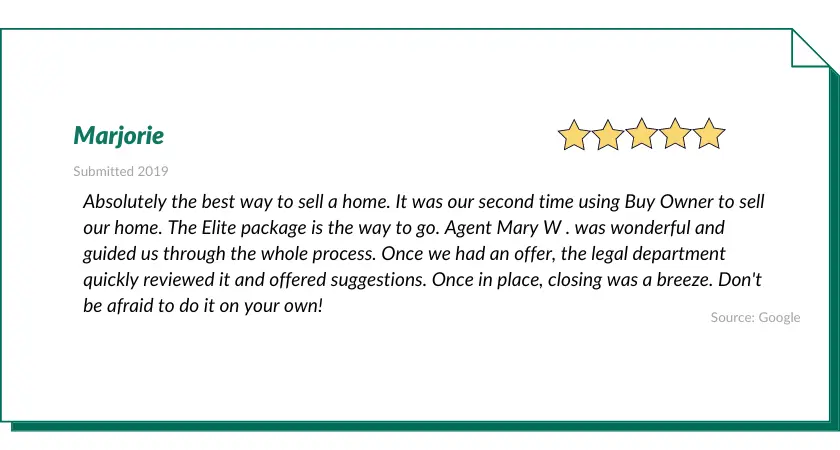 ByOwner.com Negative Customer Reviews
⛔ Lack of Guidance
Some customers felt the lack of assistance from ByOwner agents at important steps of the home-selling process.
⛔ Lengthy Process
Some users felt that their process was too intricate.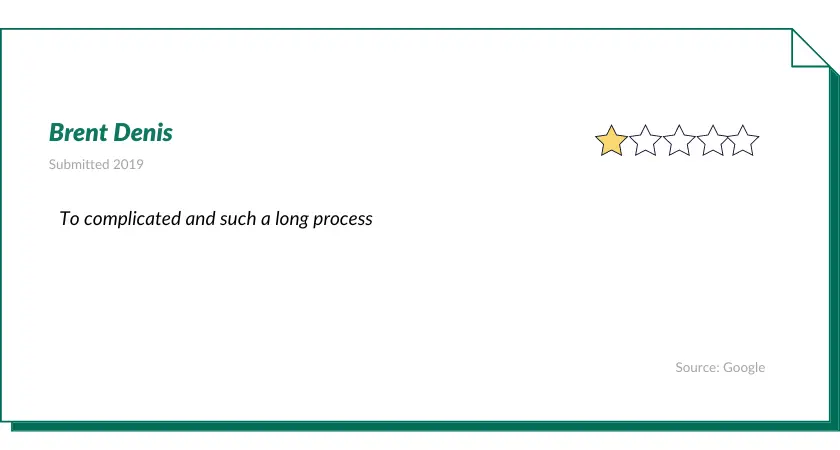 Alternatives to ByOwner
1. Houzeo
Houzeo More
🥇 BEST OVERALL

Listing Fee: $199 to $399
Available nationwide
Listings Featured on Houzeo App
Houzeo offers 4 Flat Fee MLS packages.
Bronze Package – $329+

: This package offers Houzeo listing only for 6 months with maximum photos.

Silver Package – $399+

: This includes everything that home sellers typically look for.

Gold Package – $379+

: It is Houzeo's signature MLS package and includes all the technology Houzeo is known for Houzeo Showings, Houzeo Offers, and DigiTransact.

Platinum – $349+

: It includes the assistance of a licensed broker to help you with negotiations, disclosures, and closing.
👉 Our Take: We recommend the GOLD plan. You'll have access to Houzeo tech, making managing showings and offer negotiations easy!
» Houzeo Reviews: Houzeo is 100% online. You can finish listing formalities in less than 60 mins.
Houzeo is America\'s #1 Flat Fee MLS service because of 4 reasons:
Max Exposure: Houzeo MLS packages give you access to the MLS, Zillow, Trulia, Realtor.com, Redfin, and 100s of other websites.
5-star Customer Service: Houzeo has a fully staffed customer service desk available 6 days a week. Chats and emails are open 7 days a week. This is rare in today\'s world.
100% Online: Houzeo is high-tech. For you, this means easy listing

, fast changes, online 

showings

, and online 

offers

.

 Houzeo Mobile App

 is also very powerful.

No Listing Commission: In most states, you\'ll be paying just a small flat fee to list on MLS. Houzeo covers 47 states + DC! And remember, all fees are disclosed upfront, so there are no Houzeo hidden fees. You get to bypass the listing agent commission!

2. Beycome
Beycome More
🏆 THIRD BEST

Listing Fee: $99 to $499
Available in Selective States
No Mobile App
Based in Miami, Florida, Beycome is a technologically-advanced real estate company and makes it easy for home sellers to list their home on the MLS Florida as an FSBO. Through their seller dashboard, you get to access advanced features like managing your listing, organizing offers, and showing schedules.
They offer three flat fee MLS listing Illinois packages in:
$99 Basic Package: With this package, you get to upload maximum pictures on the MLS and make unlimited changes to your listing. They even provide an open house scheduler and a tool to manage home visits. In addition to receiving all the leads directly, you also receive online offers and get to access all legal forms & disclosures. 
$299 Enhanced Package: With all the features of the Basic Package, this package includes a yard sign, a featured listing on Beycome's website, flyers and brochures, and one key lockbox. Additionally, you also get the option to add a virtual tour video to your listing.
$499 Concierge Service: This is essentially a full-service package that includes start-to-finish assistance. They charge 1% of the sale price at closing with this package.
With their 90-day money-back guarantee, you can cancel your purchase if you don't sell or receive at least two offers in that timeframe. Sellers have also reported that Beycome will ask you to use their title company.
Pros
Base plan provides local MLS listing
Valuable inclusive features
Buyer agent commission refund
Unlimited property reports
24/7 offers management
Cons
Only available in a few states
Concierge Service plan is expensive
Beycome has 3.3 star rating on TrustPilot.
Beycome is available in selected states – California, Florida, Minnesota, Georgia, Alabama, North Carolina, and South Carolina.
3. Homecoin
Homecoin More
LIMITED FEATURES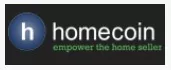 Listing Fee: $95
Selective Coverage
No Mobile App
Homecoin is ideal for basic listing services and if you are looking for limited features. With just $95, you can list your property on the MLS. But, that's where it gets tricky. For any additional features, you need to pull out a good amount of bucks.

They charge high for state-required seller disclosure which is important and can't be avoided as a seller. If you opt for additional features, your budget might spike above $2K.
Pros
Low price MLS listing
Flat fee and FSBO based
Online process
Cons
Expensive A La Carte options
Low on technology
Limited coverage in the US

Homecoin has a rating of 4.8 on Zillow
Covers selective states in America.
Advantages of Houzeo Over ByOwner.com
If you list with Houzeo, you get significant exposure and better options to sell your house. Houzeo's cutting-edge technology simplifies the FSBO paperwork and listing management processes.
Houzeo.com offers you the best combination of maximum savings, no hidden fees, and 5-star customer support.
| Parameter | ByOwner | Houzeo |
| --- | --- | --- |
| Listing Fee | $499 - $1,995 | $349 + 1% at closing |
| Number of Packages | 3 (2 Flat Fee MLS + 1 Simple Listing) | 4 MLS Packages |
| Coverage | 14 states + Coverage through brokers | 47 states + Washington D.C. |
| Simplicity and Ease of use | ✅ | ✅ |
| 100% Online | ❌ | ✅ |
| 5-Star Customer Support | ❌ | ✅ |
| Offers Directly to Sellers | ❌ | ✅ |
| Mobile App | ❌ | ✅ |
Other Options You Should Consider
1. Sell to iBuyers
iBuyers is the fastest way of selling a home. They usually make an offer on your property within 24-48 hours of listing and close the deal within 7 days. iBuyers like Opendoor and Offerpad also offer fair market value for your property.
The advantages of selling to iBuyer are:
Limited coverage, restricted to metro and urban areas
Strict eligibility criteria without exceptions
Non-negotiable offers
5% service fee
2% – 8% repair costs
👉 Our Take: iBuyer is a great option for you if your house meets the iBuyer company's eligibility criteria.
2. Sell to "Cash for Houses" Companies
"Cash for houses" companies are the perfect option for you if you want to sell your house as-is. Cash-for-house companies make cash offers for homes and close within 7 days or on your preferred date.
But there are the following drawbacks of choosing "cash for houses" companies over iBuyers:
These companies only offer 50-70% of the fair market value of your house.
Their offers are non-negotiable.
👉 Our Take: If you are selling a house as-is, "cash for houses" companies can be a good option for you.
3. Sell FSBO With Flat Fee MLS Services
Flat Fee MLS services can list your house within 24-48 hours. In the last few years, there has been significant growth in selling for sale by owner, with 77% of FSBO properties being sold within two weeks.
The advantages of selling your house with a Flat Fee MLS service are:
The MLS is the most efficient way to reach the market
Your listing is syndicated to Zillow, Realtor.com, etc.
Your property gets maximum exposure
You can negotiate the offers
You skip the listing agent commission saving you 3% of the sale price
👉 Our Take: Flat Fee MLS companies offer the best way to sell a house. You save a top dollar while having better control over your sale.
Should You Sell With ByOwner?
We don't recommend ByOwner.com to most home sellers. Their platform is outdated and they don't offer professional services vital to the home selling process.
While the idea of saving a 6% commission for a flat fee may be tempting, using ByOwner.com could make the process of selling your home overwhelming and challenging.
If you're looking to save money and receive hands-on support, Houzeo is the perfect choice for you. It has a comprehensive platform designed to assist sellers throughout their real estate transactions.
Houzeo's cost-effective packages, stellar technology, and digitalized process will make your home-selling experience a breeze.
Frequently Asked Questions About ByOwner
Is ByOwner.com legit?
Yes, ByOwner.com is a legitimate company based in Florida. The company is licensed in 14 states and provide brokerage services in other states through their network.
Are there any better alternatives to ByOwner.com?
Related: byowner.com reviews, reviews byowner.com, byowner com, byowner com rent, byowner com reviews, byowner.com rentals, byowner.com rent, byowner com reviews, byowner.com Florida, byowners, best for sale by owner site, we buy homes for cash,