FSBO.com Reviews: What Home Sellers Need to Know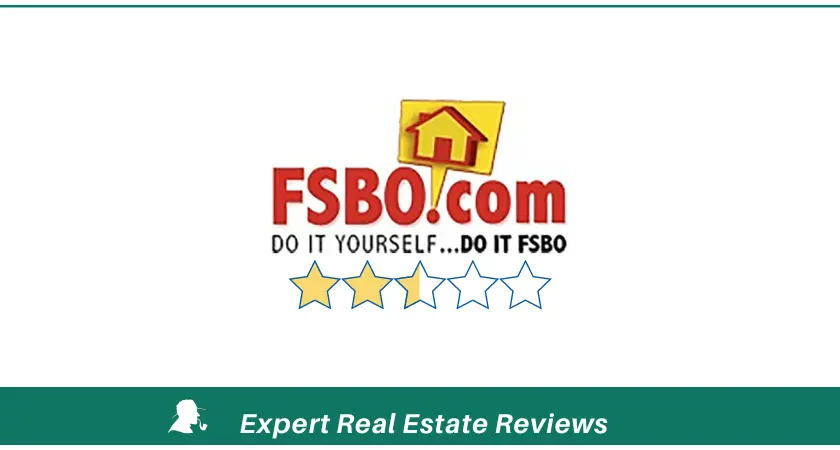 FSBO.com offers services for home sellers who prefer to sell their properties without real estate agents. Despite their claims of empowering sellers by eliminating high commissions, FSBO.com reviews don't support this claim. Users have encountered difficulties with the user interface, finding it challenging to navigate.
Furthermore, concerns have been raised about the subpar marketing tools provided by FSBO.com. Sellers have expressed doubts about the effectiveness and reach of their advertising campaigns which makes attracting genuine prospects difficult.
As an alternative, sellers may want to consider exploring solutions like Houzeo. Using Houzeo, sellers benefit from maximum exposure to buyers and buyer agents through their local MLS. Additionally, listings are featured on prominent platforms like Zillow, Redfin, Trulia, and Realtor.com.
What is FSBO.com?
FSBO.com specializes in facilitating the sale of properties through the For Sale By Owner (FSBO) method. A unique feature of this platform is that it offers an extensive property database.
The property database is regularly updated to ensure current and accurate information. One key differentiating factor between FSBO.com and ForSaleByOwner.com is that FSBO.com provides property listings on the MLS (Multiple Listing Service).
This can enhance the visibility and exposure of properties to more buyers and real estate professionals. However, FSBO.com might not offer as robust technological features as new market players like Houzeo.
It is crucial to consider specific technological tools and features to determine which website best aligns with your needs as a seller or buyer.
» 12 Best For Sale By Owner Websites: Learn why Houzeo.com is the best For Sale By Owner website
Does For Sale By Owner (FSBO) Work?
Before reviewing FSBO.com, understand For Sale By Owner (FSBO). It involves homeowners selling their properties without real estate agents to avoid commissions.
In 2023, FSBOs accounted for 10% of home sales. While FSBO websites like FSBO.com increase listing reach, they have limited buyer traffic. Additionally, it requires significant effort, akin to a full-time job. Thus, Houzeo offers an FSBO solution to cut costs and streamline the process.
» Low Commission Real Estate Agents: Check out America's Top Low Commission Real Estate Agents and Companies
About FSBO.com
Atlanta-based FSBO.com claims to be the "premier" For Sale By Owner website. With their flat fee MLS listings, FSBO.com enables sellers to find a buyer, advertise their property online, and save on commissions.
The MLS (Multiple Listing Service) is a local directory of homes that provides increased exposure for properties on sale. According to the National Association of Realtors (NAR), over 91% of home sellers list their properties on the MLS.
Each state has its own local MLS, and popular websites like Redfin and Zillow source their listings from these directories. Access to the MLS is typically limited to licensed brokers and realtors who can view and explore listed properties.
However, Flat Fee MLS (FFMLS) companies like Houzeo and FSBO.com have democratized home selling by offering listing services. With a Flat Fee MLS, homeowners can save 5 to 6% in commission fees, as they no longer require a traditional listing agent.
Is FSBO.com Legit?
Yes. FSBO.com is a legitimate business that has indeed been around for 20+ years.
How does FSBO.com Work?
| # | Step | Description |
| --- | --- | --- |
| 1. | Select a Package | First, choose an MLS package on FSBO.com. MLS will expose you to more buyers if you want a quick sale. |
| 2. | List Your Home | Upload photographs, describe your listing, and add an aesthetically pleasing video. |
| 3. | Receive Offers | Potential buyers will find your home on FSBO.com or other listing sites and will contact you for showings and inquiries. |
| 4. | Sell Your Home | When you decide to move on with one of the offers, contact an attorney, and get the paperwork started. |
What are the Fees Of FSBO.com?
FSBO.com offers two types of programs. With FSBO.com, you can market your property for six months for $99.95. You can upload unlimited photos of your property. Additionally, you have complete control over editing and canceling your listing.
Your listing will be syndicated on Redfin.com, a popular home search tool. It's important to note that FSBO.com's basic package does not include listing your house on your local multiple listing service (MLS).
This means that if Redfin syndication is not available in your area, potential buyers will only come across your listing if they specifically search for it on the FSBO.com website.
FSBO.com offers one package that lists you on the MLS. The "MLS Package" starts at $399.95. It puts your home on the MLS. Furthermore, this allows your listing to get syndicated to other major websites. As an FSBO seller, your listing will receive the same exposure as agent-assisted listings.
FSBO.com does not directly handle the syndication of your listing. Your information goes to MLSmart Realty LLC, a third-party broker.
For additional items like yard signs or mandatory legal forms, FSBO.com provides an online store. Sellers can order a variety of yard signs from a customizable menu. However, no portal is available for downloading required legal forms, and obtaining them remains a manual process when using FSBO.com.
» Redfin Reviews: Houzeo or Redfin, which is a better choice?
FSBO.com Reviews
The company has an aggregate rating of 2.7 out of 5 stars, and past sellers have expressed varying opinions in their reviews of FSBO.com. They collaborate with numerous independent realtors and brokers across the country.
FSBO.com's MLS package assigns local realtors or brokers to manage homeowners' listings. This broker works on the listing and any requested changes during the FSBO process.
Additionally, the yard signs and listing display the contact information of this broker. It keeps homeowners out of direct contact with potential buyers. As a result, the quality of service provided by these brokers varies. This seems to be the primary reason for the mixed opinions surrounding FSBO.com.
FSBO.com Pros and Cons
✅ Saving Money
Selling through FSBO.com enables cost savings by eliminating the Listing Agent's Commission. It typically amounts to 3% of the sale price. For instance, if you sold your home for $500,000, you could easily save $15,000.
If circumstances align favorably and the buyer doesn't have their agent, you could potentially pocket the full 6% commission, amounting to $30,000. Undoubtedly numerous FSBO.com reviews highlight the commission as a significant benefit of using the platform.
» Discount Real Estate Brokers: Check out America's Top Discount Real Estate Brokers
✅ Simple UI
FSBO.com provides a user-friendly platform that allows sellers to navigate conveniently. Creating a home listing and adding relevant information is straightforward, despite its nearly 20-year-old existence.
However, several FSBO.com reviews mention the clunky user experience (UX) that some users have encountered. They think home selling or buying is already complex enough without adding an overly technical user interface on FSBO platforms.
Houzeo has implemented modern design systems to ensure that the user experience on its platform is effortless. They aim to simplify selling or buying a home, especially by providing a user-friendly interface.
⚠️ Limited Automation
FSBO.com operates with minimal automation. Consequently, requiring sellers to handle paperwork manually and go through additional tasks. This offline broker management and lack of downloadable resources make selling homes frustrating.
In contrast, at Houzeo, our team has digitized forms and optimized efficiency by automatically populating your information. This allows you to focus on important tasks such as depersonalizing the property and attending to other essential matters.
⚠️ Limited Self-help Resources
For first-time sellers, who may have valid questions about the complexities of real estate, the company lacks self-help resources. Potential users may consider this a red flag.
Houzeo provides comprehensive guidance throughout every step of the home-selling or home-buying process so you never feel lost. With Houzeo, users can track their progress and achieve their goals through every aspect of the software.
For instance, filing state disclosure forms for inspectors to verify your home sale is presented as a specific task on your dashboard, streamlining the process and eliminating confusion.
❌ Unpredictable Broker Quality
In FSBO.com's MLS package, the listing aspect is outsourced to an external party rather than being managed by their staff. This means sellers interact with a broker from the external party responsible for the MLS listing. They serve as the main point of contact during the sale process.
However, if the assigned broker has malicious intent, sellers could become victims of unexpected commissions and last-minute closing fees. Similar to Ruddy's disappointing experience with their Package, many sellers express concerns about the unpredictable quality of brokers in their reviews.
In real estate, a lack of timely communication is a deal breaker. FSBO.com does not have a mobile app either. The Houzeo mobile app offers all the information about home selling at your fingertips with affordable full-service packages.
Introducing the Houzeo Mobile App!
View your listing
Review and compare offers
Counter an offer
NEW! Buyers can now search your property and save it in "Favorites"
❌ Limited Visibility
The $99.95 package offered by FSBO.com only lists the home on the FSBO.com website, excluding any MLS listings. As a result, the house is significantly less exposed than if it were directly on MLS.

It's important to note that this package is non-refundable and is unlikely to provide value for home sellers.
Will FSBO.com Work for me?
Despite its convenience, FSBO.com's platform is outdated and offers limited value with its base package. It primarily markets your property to a restricted audience, making it suitable for self-sufficient sellers with ample time and who know exactly what they want.
FSBO.com reviews emphasize that the effectiveness of FSBO varies for each seller. The MLS package also falls short of delivering a consistently positive experience.
Due to the scattered presence of independent brokers, the company cannot guarantee a satisfactory outcome for every seller. Furthermore, FSBO.com does not offer services like contract reviews, assistance with showings, or hosting open houses.
Fortunately, FSBO.com is not the only flat-fee MLS service available for homeowners looking to save money when selling their property.
Houzeo: An Alternative to FSBO.com
Houzeo offers an intuitive platform with flat-fee listing services. Unlike other services, their technology-driven approach streamlines the home-selling process, saving time and reducing fees.
Homeowners can save thousands with features like automated listing details, extensive online exposure, and excellent customer support. The newly launched mobile app provides added convenience for browsing homes and managing offers.

Other Options You Should Consider
1. Sell to iBuyers
iBuyers make an offer on your property within 24-48 hours and can close within 7 days or more. Most iBuyers like Opendoor and Offerpad are also known to offer the Fair Market Value (FMV) for your property.
» iBuyer Reviews: Check out rankings, pros, cons & alternatives of top iBuyers in America
2. Sell to "We Buy Homes for Cash" Companies
Unlike iBuyers, "We buy homes for cash" companies help you sell your house as-is fast. They can even close within 7 days or any date you choose. "We buy homes for cash" companies also make cash offers for homes outside metro areas or in difficult-to-sell locations.
👉 Our Take: If you are selling a distressed house, we advise a cash home buyer.
» "We Buy Homes for Cash" Companies: Check out America's biggest cash home buyer companies in 2023
3. Sell With Flat Fee MLS Services
The most effective method for customers to buy or sell a house is through MLS listing websites. 95% of homebuyers use online tools to find their dream homes. Lastly, 89% of home sellers chose the Multiple Listing Service (MLS) to sell their homes quickly.
List on MLS with a Flat Fee MLS service to get your house on the market within 24-48 hours. Flat Fee MLS is one of the best ways to sell your home fast.
👉 Our Take: We recommend Flat Fee MLS companies for most home sellers. They are fast, and you will save thousands in commissions.
Reviewing FSBO.com: Should I Sell with them?
While FSBO.com is a viable option for low-cost brokerage services, the home-selling experience can be unpredictable. Despite being one of the oldest players in the market, FSBO.com offers limited advantages amidst the complexities of real estate.
Savings are possible if all external factors align. However, you have zero control over the overall selling experience.
Opting for a slightly outdated platform like FSBO.com may seem impractical in a world of constantly advancing technology. With Houzeo, you can enjoy an instant and efficient home-selling experience without unnecessary expenses or time investment.
» Houzeo Reviews: You NEED to Read these Reviews!
Frequently Asked Questions
1. Which For Sale By Owner (FSBO) Website is the best?
These are the best FSBO websites based on reliability and credibility:
FSBO.com
Fizber
Zillow & Trulia
For Sale By Owner
Craigslist
Facebook Marketplace
Homefinder
Beycome
2. How Do I Evaluate Which One is the Best For Sale By Owner Website?
We've done it for you! We've evaluated different websites based on the following dimensions:
Which website provides the most exposure to your property listing
Which website allows you to offer a Buyer's Agent Commission
Which website offers the most control over your MLS listing
When you request changes, which site gets them done the fastest – because as they say, time is money!
Which website provides the best value in terms of fees. Read the blog for a detailed comparison!
Related: we buy homes for cash