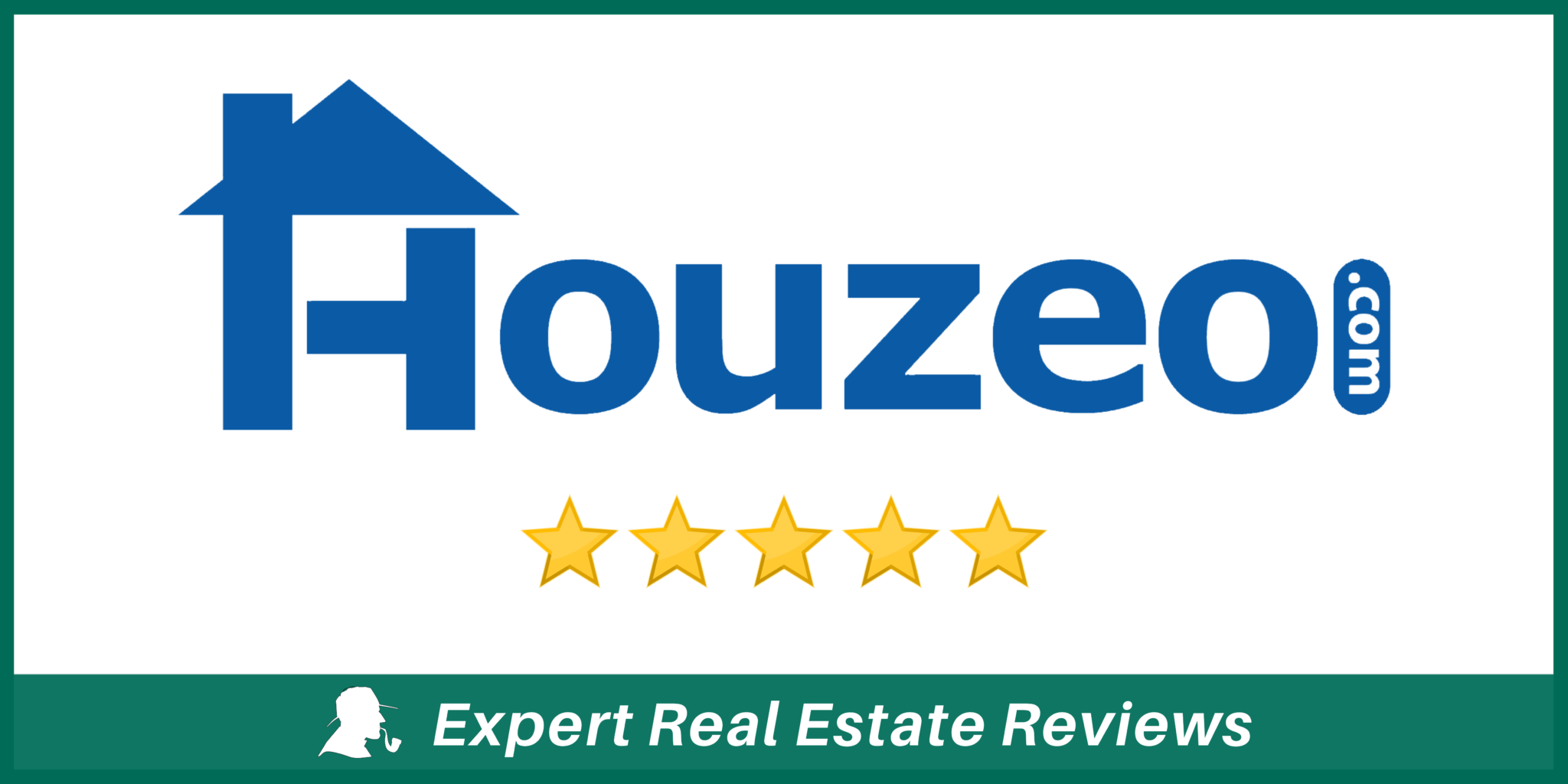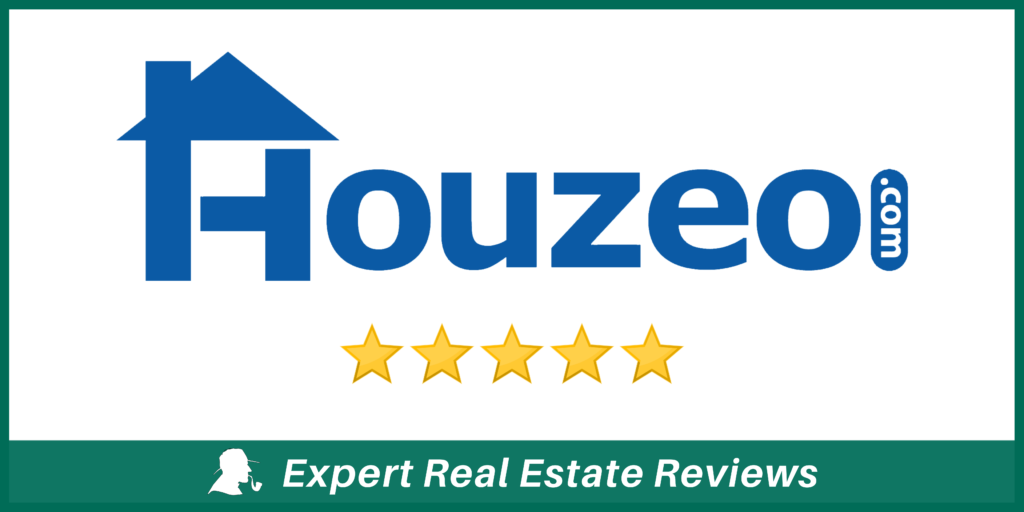 Houzeo is a tech company that simplifies real estate for home sellers. They let sellers access technologies only real estate agents have.
Want to know if they are unique? Read this comprehensive Houzeo.com review to know!
» Jump To:
What is Houzeo?
Founded in 2017, Houzeo is a tech company that offers Flat Fee MLS listing services in the US. The company lets home sellers list their property for a minimum of $299. They also provide advanced tools that allow a modern home seller to list quickly and sell their house smoothly.
Each package also has unique features like social media exposure, documentation assistance, and many more based on the location and price of the package. Earlier, home sellers would have to spend hours and days filling out millions of forms! Houzeo's automated tools have reduced the time, effort, and money required for the process.
What is Houzeo?
Know more about the platform.
What is Flat Fee MLS?
Home sellers need to list their houses on the MLS to attract potential home buyers. The Multiple Listing Service (MLS) is a virtual database of houses that go on sale. Flat Fee MLS services allow homeowners to list their property on the MLS at a flat rate.
The MLS cannot be accessed by the public, only licensed real estate agents or brokers have access. That's where Flat Fee companies come in. They give you access to the MLS by listing your home without a real estate agent, helping you save thousands on listing fees — amazing, right?
» Flat Fee MLS: The best guide on Flat Fee MLS that you need.
Do Home Sellers Benefit Much From Houzeo?
Home sellers save thousands of dollars just by using Flat Fee MLS listing. Combined with Houzeo, sellers can list their properties fast and save money at the same time.
We had a look at the benefits of most Flat Fee Companies, let's see if Houzeo has its own perks.
💵 Hidden Fees
Houzeo offers a No Hidden Fees guarantee. Certainly, you won't be surprised by any additional fees during the entire process.
📣 Max Exposure
Houzeo gives you MLS and non-MLS exposure in 47 states and 1 district.
👨‍💼 Commission
With Houzeo's reach, you can offer a commission to local agents.
📝 Quick Listing
Houzeo is known amongst home sellers for how quickly they can get you listed. With Houzeo Concierge, you'll be listed in 8 business hours if all your documents are in order!
👨‍💻 Showings
The in-house Showing Time app helps you to make home showing and feedback convenient while on the go.
💸 Low Fees
Unlike many FSBO websites, Houzeo's packages are affordable.
🖥️ Online Offers
Houzeo's Mobile Application enables you to quickly receive, review and compare the offers on the go! You can do the same from your seller dashboard too.
📱Houzeo's Mobile Application
With the help of this mobile application, you can:
1) View your listing.
2) Review and Compare offers.
3) Counter an offer.
4) For Home Buyers! They can search for any property and save it in "Favourites".
Are Houzeo's Flat Fee Services Legit?
Yes, Houzeo's services allow home sellers to list and sell their property with lesser fees. Sellers can list their property for $349 on average, while home buyers can get a rebate of up to 1.5%. The potential savings are genuine!
» Is Houzeo Legit: Click to find out!
How does Houzeo Work?
To provide Flat Fee MLS listing services, Houzeo has specific offerings. Here's what they are:
Houzeo's Technology
At any time, even if it's the middle of the night, a home seller can send a request to change their asking price through Houzeo's virtual platform. With a traditional agent, a seller would have to get in touch with the agent and change the price.
The company's online dashboard allows sellers to submit their requests at any time anywhere. Some other tools that sellers can use are:
Quick Listing and Changes: A listing can go live in 8 business hours if all your documents are in order with this service. A home seller can also make changes without any problems.
Houzeo Offers Management: A seller can receive, review and compare offers from the seller dashboard. They can also give a counter offer using this feature.
Houzeo Showings: Their in-house ShowingApp will allow you to postpone or pre-pone your house showing based on your availability.
Settlement Agent Selection: In their virtual full-service package, Houzeo allows you to choose a settlement agent to carry out your closing.
Here's what Colleen has to say about Houzeo's tech.
Houzeo's Coverage
Houzeo has nationwide coverage in 47 states and 1 district. All the states have their listing price which again is very economical. Houzeo has partnered with top real estate professionals to ease out the buying-selling process.
Houzeo for Home Sellers
We looked into the features of Houzeo to see which helps home sellers the most, here are a few of them:
Max Exposure
Houzeo covers important Multiple Listing (MLS) available in each state. Moreover, they provide non-MLS exposure as well. For instance, they syndicate your listing to Zillow, Trulia, Realtor.com, Redfin, and a hundred more!
Qualified Local Agents
90% of home buyers are represented by agents and all inquiries for your property will be from them. Each agent at Houzeo is qualified to help home sellers to take the right step at the right time.
Quick Listing and Changes
Houzeo is well known for its quick listings. With Houzeo Concierge, you'll be able to list in 8 business hours if all your paperwork is sorted. You can also make quick changes to your listing if required.
Offers Made Online
Houzeo enables a user to receive, review, and compare the offers from the seller dashboard. You can even do this from Houzeo's Mobile Application.

Another interesting feature that catches our attention is the feasibility to "Counter an offer" all by yourself. This feature comes in handy when you have multiple offers.
Manage Showings
Houzeo has its very own ShowingTime App, which is the perfect solution for FSBO and Flat Fee MLS sellers. It gets tough to manage multiple appointments at a single time. So, this makes home showing and feedback convenient while on the go.
Showing Time for sellers includes features like Schedule Showings, Schedule Cart, CalendarSync, Listing Activity Report, Contacts, and My Home.
No Hidden Fees
Houzeo's Flat Fee MLS packages are transparent about their charges. Therefore, you will never be surprised with any additional or hidden fees at the time of closing.
» Houzeo Hidden Fees: The REAL TRUTH about their Hidden Fees!
Houzeo for Home Buyers
Houzeo's tech also helps home buyers with their home search, here are some features that buyers may find beneficial.
Advanced Buyer Search Feature
Home buyers have a great presence on the platform. The "Buyer Search" feature gives home buyers the freedom to browse through properties listed on Houzeo. Buyers can filter the search by location, number of bedrooms, locality, etc
Make a Direct Offer
Home buyers not only can search for their dream home but also make a direct offer on the home they'd like to buy. The seller will immediately receive a notification that their property has received an offer.
📝 Make a Note: 97% of home buyers use the internet to search for homes and 50% of them find it feasible to use their smartphones. Home buyers and sellers can learn how Houzeo can help them through their mobile app. The app allows you to access real estate at the click of a button.
How Do Home Sellers Save Thousands With Houzeo?
The average price of a house in the United States is $354,165.
Now, if you go to a traditional real estate agent to list your home. You would have to pay a 6% commission which would be split equally between the seller's agent and buyer's agent.
The total commission you pay for a median house in the US is $22,000 approximately. Don't forget, that you have to pay inspection costs, transfer costs, prorated property taxes, title insurance, escrow fees, closing fees, and a few more.
With Houzeo listings packages, a seller can save at least $10,000 on expenses.
Many people assume that Flat Fee realtors offer bad services while charging such minimal fees. However, most Flat Fee MLS companies partner with local experienced agents to carry out the listing process. They are proven to be just as efficient and good as traditional realtors.
Can Home Buyers really profit from Houzeo?
Houzeo claims to have coverage in 47 states and 1 district. A buyer sitting in New York can easily look for properties listed in Los Angeles, Seattle, or San Francisco. How is this possible? Because of Houzeo's coverage. Multiple choices mean a buyer gets the best properties to buy in the market.
Houzeo's platform allows buyers to filter their search and find properties that match their needs and interests.
Additionally, home buyers can make direct offers for any property they choose. If a seller is happy with the offer, a buyer can buy the house just with a click of a button. All of this, without the intervention of a real estate agent and complete control in the buyer's hand.
Houzeo Pros and Cons
| Attributes | ✅ Pros | ❌ Cons |
| --- | --- | --- |
| 📲Advanced Technology | Advanced tech automates most data, saving time and efforts. | Relying on tech can be risky if its glitchy. It could potentially increase the time required. |
| 💵Economical Packages | Packages starting from $299 are cost-effective and include various features. | Packages in some states can be expensive and include a disclosed closing fee. |
| 🗺️Great Coverage | Covers 47 states and district. | Out of the 47 states, 5 states have limited coverage or limited automation of data. |
| 👨‍💼Autonomy | Sellers & Buyers have more control of the matter. | Sellers & Buyers can make errors without the right guidance. |
Houzeo Refund & Cancellation Policy
Refund Policy
The US has strict compliance rules; violating them can incur penalties. Therefore Houzeo's refund policy is precise and strict. A seller can get a refund if they fulfill these criteria.
It has been less than 14 days since you placed your order, AND
The seller should not have signed the Listing Agreement, AND
The listing should not be live, AND
You have not been assigned a draft listing.
The problem here is that a draft listing cannot be assigned till the listing agreement is signed. So, it is unclear how a seller can fulfill all criteria.
Cancellation Policy
Houzeo's cancellation policy allows home sellers to cancel their listings anytime without any additional charge. However, if the listing is on GAMLS (Georgia MLS), then the seller has to pay a termination fee of $25. The company's cancellation policy is straightforward.
Houzeo Success Fee
According to our research, Houzeo does not charge any success fee currently.
Houzeo Reviews Reveal the Truth!
The best way to know a company's performance is through its reviews.
Here are some customers talking about their good and bad experiences with Houzeo. You can find Houzeo's Trustpilot reviews and Google reviews quite easily. Let's look at these reviews.
✅ Super-Fast Process Impressed First-Time Home Sellers
Two first-time customers had different experiences while using the platform. Each gave 5-star Houzeo reviews regardless, here's what Jimmy and Terry had to say.
✅Great Customer Service Drove Home Sellers to List Again
Some customers used Houzeo more than once, like Ken & Sophia. Let's have a look at how their experience was.
✅ Home Sellers Keep Recommending Houzeo to Others
We were surprised to see many Houzeo reviews recommending the company to others. Here are some things customers had to say.
Barry liked the simple process and fast results he received for his listing.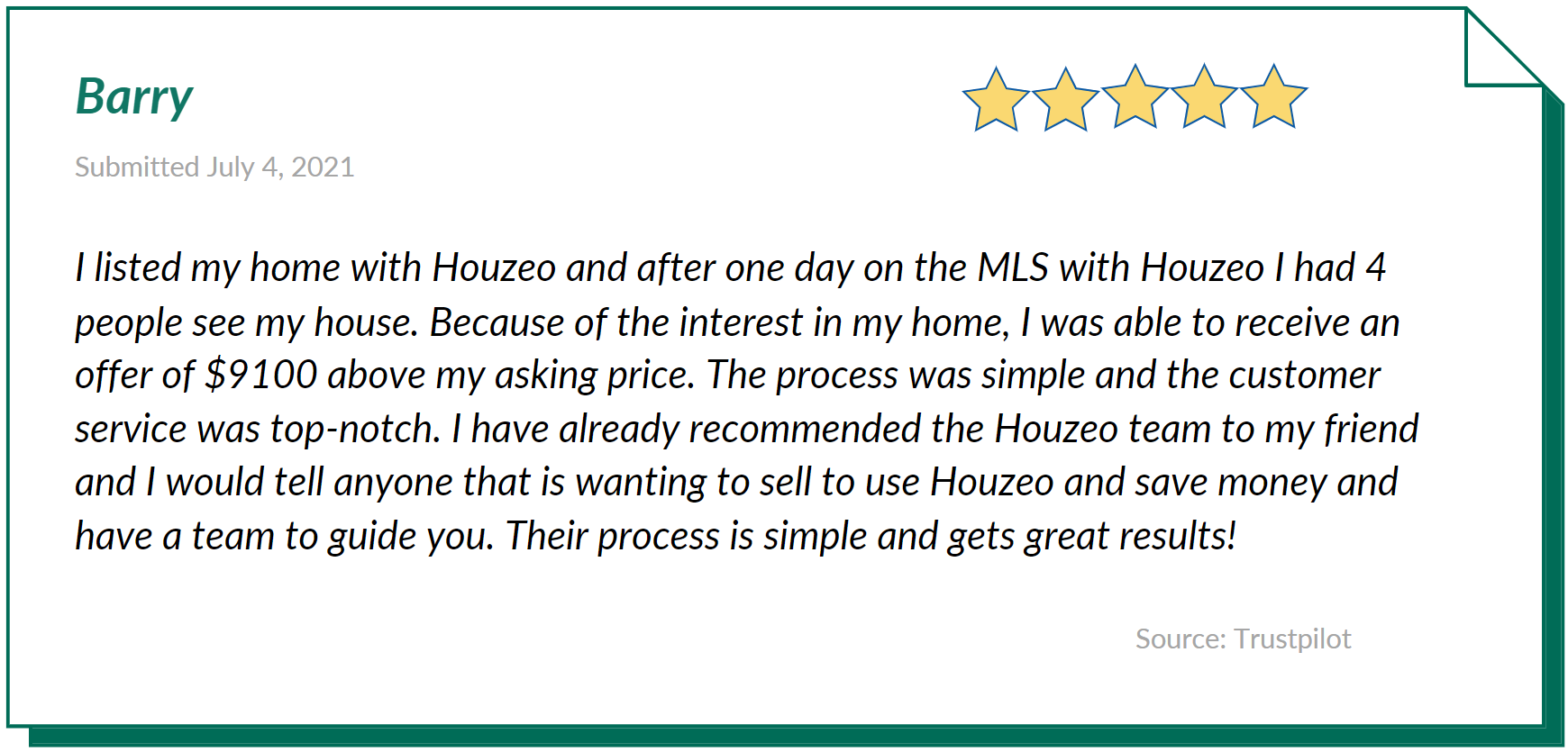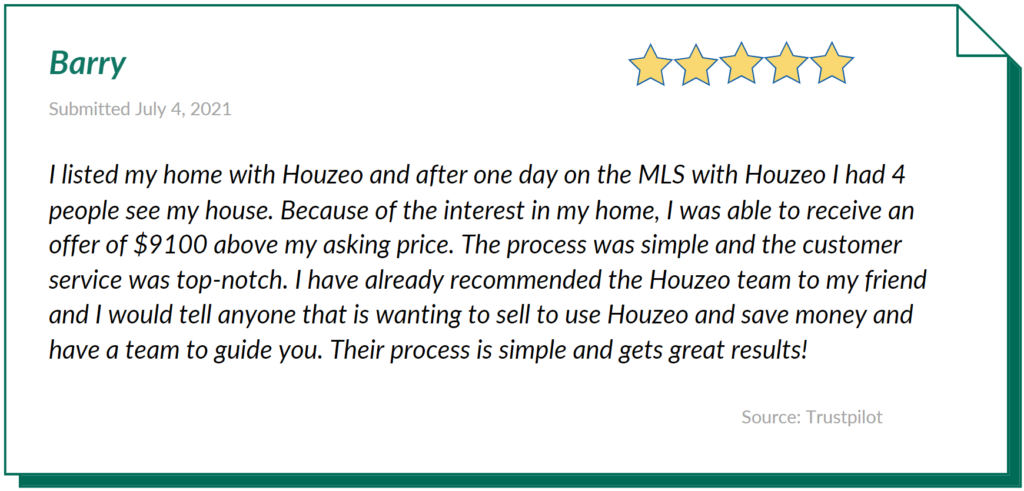 Ben found Houzeo's website very user-friendly!
Cyril & Rhett found the Houzeo team responsive and helpful.
📢 Houzeo Complaints
During our thorough research, we came across Houzeo complaints too. In our opinion, Houzeo took these complaints seriously and responded to them quickly.
They accepted their shortcomings and provided a sensible solution.
❌ Technical Glitch
Due to an uncertain technical glitch, Mace Koury's listing got delayed. Although, they were instant to publish the listing on Zillow and Trulia.
❌ Miscommunication
Sarah faced certain problems due to a slow response from the agent's end. He sent information that was different than the website.
❌ Compliance Issue and Houzeo's Response
Robert faced a serious issue with compliance, but the company was quick to give him a detailed response to settle the issue.
Which Is Better, Houzeo or Traditional Agent?
Flat Fee MLS listing companies are better than traditional agents. Sellers can completely skip the listing commission with a flat fee. Houzeo lets them do just that. Let's compare Houzeo's most expensive Virtual Full-Service Listing package of $999 with an ideal traditional agent's fee.
Let's say, the home value is $500,000.
Then,
| | | |
| --- | --- | --- |
| Costs | Houzeo | Traditional Agent |
| ⚠️ Listing Fees | $999 | $15,000 (3%) |
| ⚠️ Buyer Agent Fees | $15,000 | $15,000 (3%) |
| ⚠️ Total Commission | $15,999 | $30,000 |
| Total Savings | $14,001 | $0 |
» For Sale By Owner VS. Real Estate Agent: Which is the better way to list and sell a house.
List With Houzeo in 6 Steps
⭐ Step 1
Register on Houzeo to create your personal dashboard. Here, you can enter all the details of your house including property description, submit documents, upload property photos, chat with the customer support team, and much more.
⭐ Step 2
Houzeo lists your property within 8 business hours, which is quite impressive as a seller's priority is to list their house in a short period and receive great offers.
⭐ Step 3
After listing your home on the MLS, they also market your home on different social media platforms for better exposure.
⭐ Step 4
Once listed, the offers will start pouring in. The seller dashboard allows you to manage multiple offers and also enables you to make a counteroffer. Once you login in with Houzeo you have complete control over the home sales.
⭐ Step 5
You don't have to worry about buyers, as Houzeo provides the facility of an Open House. Your agent will look after the entire process and provide you with updates.
⭐ Step 6
Now, that you've selected the best offer. All you need to do is, close the deal and complete the paperwork.
Houzeo Vs Top Competitors
| Categories | Houzeo | Beycome.com | Homecoin | Flat Fee Group | FSBO.com |
| --- | --- | --- | --- | --- | --- |
| Price | $299 | $399 | $95 | $299 | $399 |
| Hidden Fees | None | None | $450-$2999 | None | None |
| Mobile App | ✅ | ✅ | ❌ | ❌ | ❌ |
| Offers Directly to You | ✅ | ❌ | ❌ | ❌ | ❌ |
| 100% Online | ✅ | ✅ | ❌ | ❌ | ❌ |
| Counter an Offer | ✅ | ❌ | ❌ | ❌ | ❌ |
| Request Highest & Best Offer | ✅ | ❌ | ❌ | ❌ | ❌ |
| Showing Management | ✅ | ❌ | ❌ | ❌ | ❌ |
| Expedited Listings | ✅ | ❌ | ❌ | ❌ | ❌ |
| Fast Changes | ✅ | ❌ | ❌ | ❌ | ❌ |
Beycome vs. Houzeo
Beycome like Houzeo provides virtual real estate services in the US. Experienced sellers can benefit quite a lot even with their basic package of $99. Home sellers can also upgrade to a $399 or Concierge package for the complete sale process.
Sadly, Beycome is only available in a few selected states. Also, new or first-time home sellers might find it difficult to work with them as sellers have to do most of the work.
» Beycome Reviews: Are they the right choice? Click to find out.
Homecoin vs. Houzeo
Homecoin provides tech-efficient Flat Fee MLS services in 6 states. Like Houzeo they are known for their good tech and user-friendly interface. But, most of their customers agreed that experienced sellers would find it more beneficial and easy. First-time customers found Homecoin very confusing to use.
Houzeo's interface is easy for everyone comfortable with technology. First-time customers found Houzeo's website simple to use as seen in the reviews above.
» Homecoin Reviews: Click to know if they have HIDDEN FEES!
Flat Fee Group vs. Houzeo
Flat Fee Group is a Flat Fee MLS listing company that offers listing and full-service packages. Their flat fee packages differ from region to region.
For example, in Texas, their flat fee and full-service packages range from $399 – $1289. Whereas, in Wisconsin, they have flat fee packages starting from $299 and a full-service package where the seller pays a 1% commission at closing. Sellers from various parts of the country have great options to choose from but may find them difficult to access due to limited tech.
Most seller-agent interactions happen directly on call which could end up being overwhelming for an inexperienced seller. With Houzeo, this issue doesn't arise as the entire process is virtual and simple to use.
» Flat Fee Group Reviews: Click to see how their large network of agents helps home sellers in the US.
FSBO.com vs. Houzeo
FSBO.com has been around for 25 years and is the oldest For Sale By Owner website in the US. Home sellers can list their house for as cheap as $99 but only on the FSBO website.
Sellers also have to pay additional fees for basic supplies they may need during the sale like a yard sign. To get more exposure and support, you have to get the $399 package.
Being the oldest in the market has its perks, as people tend to rely on well-established companies for services. But, FSBO.com has not evolved with time to keep up with the competition. Many For Sale By Owner websites offer competitive packages that include all the services a home seller will require.
» FSBO.com Reviews: You NEED to read these reviews!
Editor's Take: Is Houzeo Worth Your Time?
Houzeo provides all the features a modern-day home seller will need. With their Flat Fee MLS listing packages, they can compete very well with others in the market.
Whether it is worth considering or not, is purely up to the seller. But looking at Houzeo reviews, it is safe to say that the company has definitely made real estate transactions simpler and faster.
The tech company has created a platform that gives home buyers and sellers more freedom and control over their buying or selling process. As their process is 100% online, Houzeo also provides a settlement agent feature.
Home buyers and sellers must understand that traditional real estate commissions do not make sense in the current housing market. With the help of Houzeo's 'Flat Fee MLS packages', you can eliminate the entire 3% seller's agent commission and with Houzeo's 'Buyer Search Feature', homebuyers can directly make an offer on the properties they'd like to buy.
Frequently Asked Questions
1. Is Houzeo legit?
Houzeo is a legit tech company that helps home sellers and home buyers to sell and buy properties. The company's services help sellers save money and buyer buy the house of their dreams.
2. Is Houzeo free?
A home seller can list their house for free on Houzeo. But to sell your home with the right guidance, it is advisable to buy one of their Flat Fee MLS packages.
3. Are Flat Fee Realtors good?
There is an unpopular opinion amongst home sellers that Flat Fee Realtors are cheap because they provide low quality services. However, slowly more and more people are using Flat Fee MLS listing services because the service is as good as traditional real estate but with MORE SAVINGS!
4. Is Houzeo available nationwide?
Houzeo is available nationwide and offers cost-effective packages starting at $299.
5. Is Houzeo good?
Yes, Houzeo is a good choice for modern home sellers. With their advanced technology and stellar customer service, Houzeo provides a smooth and hassle-free transaction to all.
6. Who owns Houzeo?
Amit Dhameja owns Houzeo. The company has its headquarters in New York with an additional office in Charlotte, NC.
Related Keywords: houzeo complaints, houzzeo, houszeo, housezo, houzeo corp, houzeo login, houzeo coupon code, houze review, houzeo for sale by owner, houzio realty, flat fee listing complaints, for sale by owner mls listing reviews, homecoin com complaints, flatfeegroup com reviews, houzeo pros and cons.