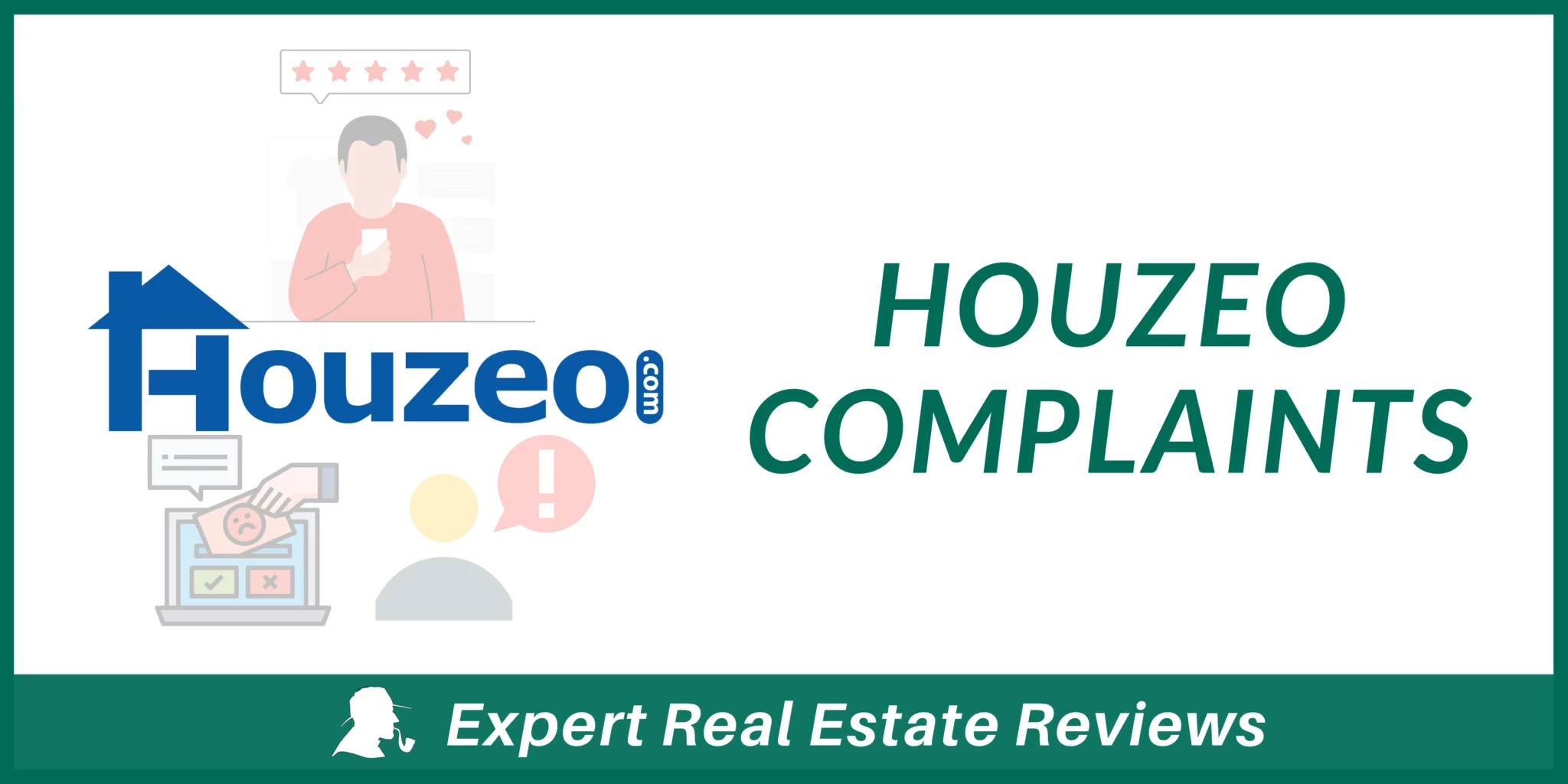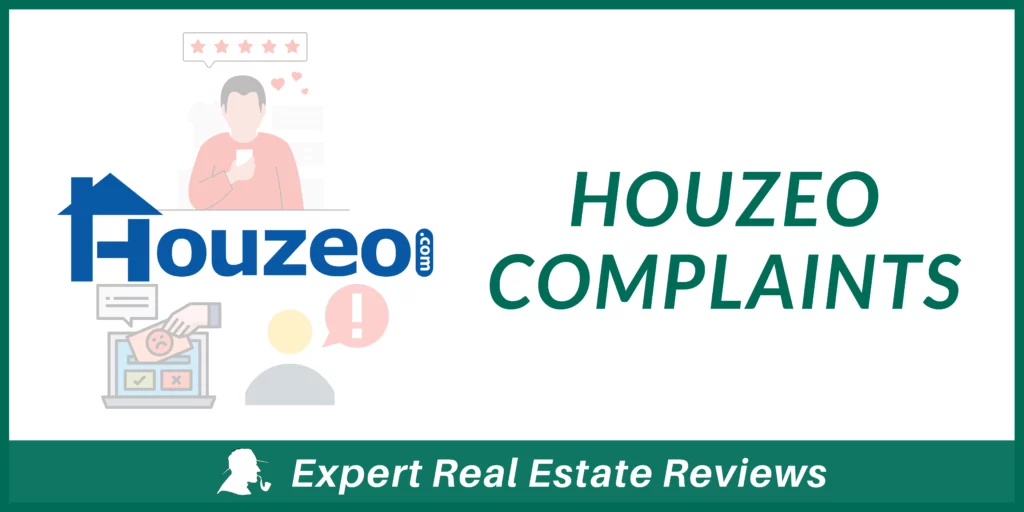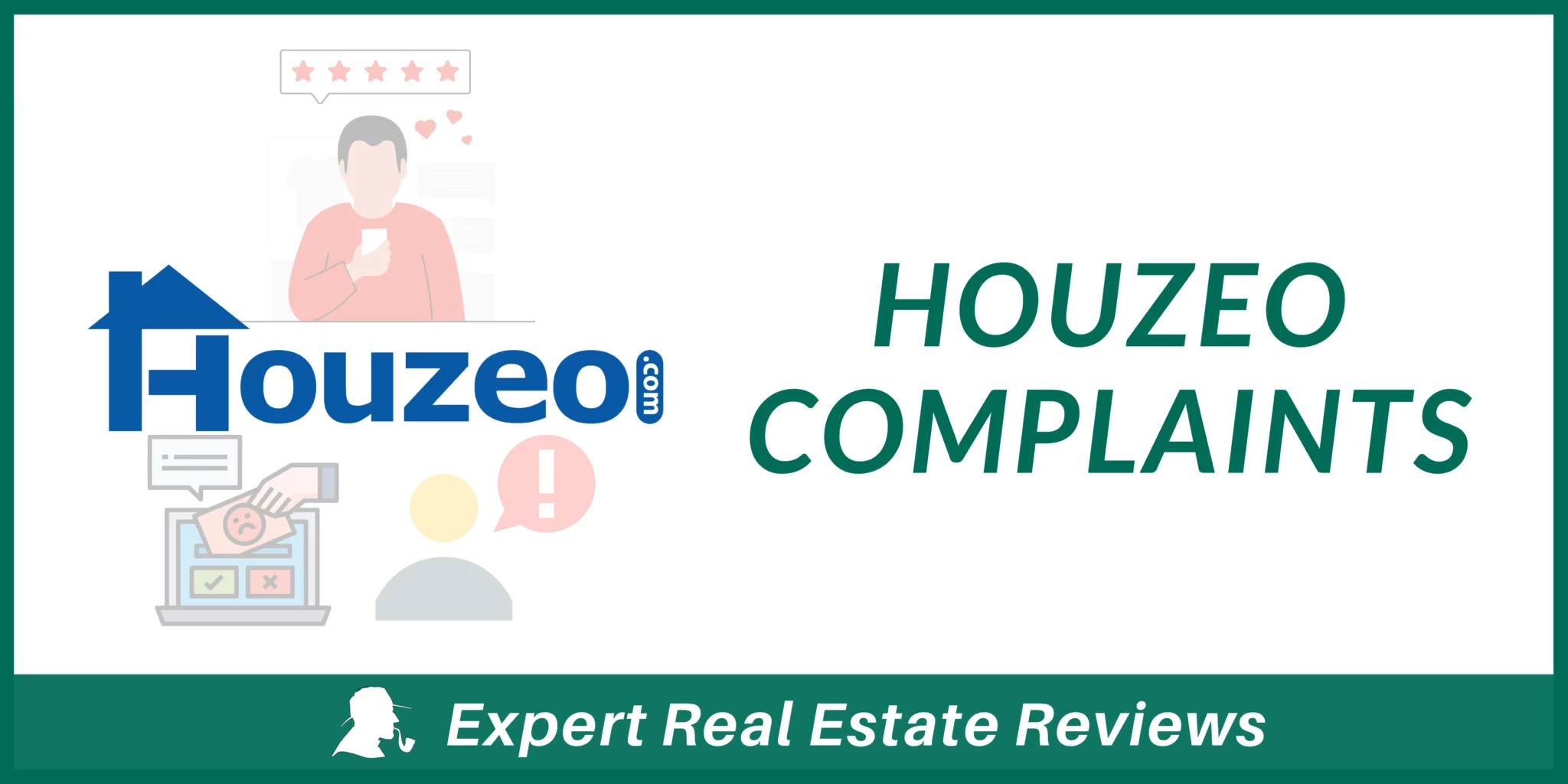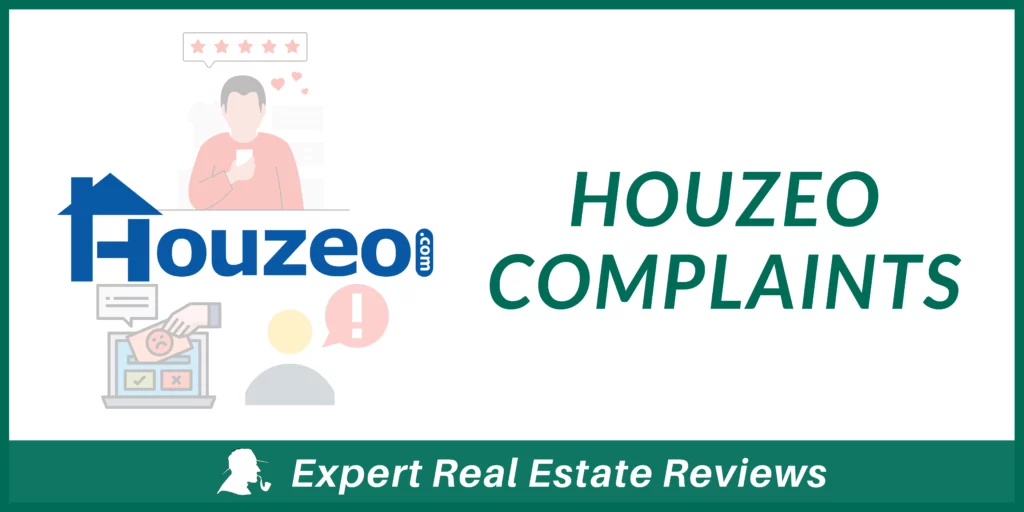 Houzeo is a tech-centric real estate platform and for sale by owner website that gives you access to resources normally reserved for real estate agents.
Houzeo's customer ratings on Trustpilot and Google are very impressive, with 4.9 stars and 5 stars, respectively. Home sellers have generally praised the company. Although if you're thinking about selling FSBO with Houzeo, you should know about some Houzeo complaints.
» Jump To:
What is Houzeo?
Houzeo is a tech company that was established in 2017 and provides Flat Fee MLS listing services in the US. Homeowners can list their property with the company for as little as $299. They also offer cutting-edge tools that let a modern home seller list their property quickly and sell it without any problems.
Depending on the location and cost of the package, each package also includes special features like social media exposure, help with documentation, and many more.
Previously, home sellers had to spend hours or even days filling out millions of forms! Houzeo's automated tools have reduced the process's time, effort, and cost to a great extent.
What is Houzeo?
Know more about the platform.
Is Houzeo Legit?
Yes, Houzeo is a legit tech company that helps home sellers and home buyers to sell and buy properties. It has its headquarters in New York. The company has over 2,000 reviews on Google and Trustpilot. Houzeo has been praised by home sellers for its technology, customer service, and affordability.
Apart from the official website, we examined the following parameters to determine Houzeo's legitimacy as a company:
Address & Locations: Genuine businesses always include their address as well as all of the areas they serve. Houzeo not only provides complete addresses but also contact information so that people can contact them.
Company Reviews: Houzeo responds to all comments/feedback/reviews on online review sites.
» Is Houzeo Legit: Read Further to More
How Does Houzeo Work?
Houzeo is a Flat Fee MLS listing company. Instead of a 3% listing agent commission, the company lists you on the MLS for a small flat fee
What sets Houzeo apart from the competition is its technology. Houzeo provides a powerful dashboard for home sellers. Home sellers can manage listings, showings, offers, and other details via the seller dashboard. If you get stuck at any point, Houzeo's customer service is prompt and easy to contact.
» How Houzeo Works: Everything You Need to Know
Should I Use Houzeo?
Yes, you should use Houzeo to get on the MLS. Home sellers can save thousands in commissions and get listed on the MLS quickly with Houzeo's Flat Fee MLS listing packages.
The MLS helps homes sell 17% more quickly and for a higher price. Zillow, Realtor.com, Trulia, and other listing websites receive syndicated MLS listings. MLS increases exposure. For a set fee, Houzeo will put your house up for FSBO sale and list it on the MLS.
⏰ FASTEST WAY TO GET OFFERS: Houzeo is 100% online. Complete listing formalities in <60 mins and market to buyers nationwide!
Houzeo Products
The company offers the following products to home sellers:
Houzeo's IntelliList Listing Management: Listing a property on Houzeo is one of the best and most powerful ways for sellers to find unrepresented buyers and avoid paying the full commission. Listing inquiries are immediately emailed to you along with the inquirer's contact information. Your dashboard will save a buyer's or agent's contact information when they request your information.
Houzeo Showings: Homeowners can set up their showing schedules on Houzeo Showings and choose whether or not to accept or reject showing requests. Buyers request showings and give feedback directly through Houzeo Showings.
Houzeo Offers:

Houzeo offers enables you to browse and compare offers online. Even better, you can counter an offer or request the highest and best offers.
Houzeo Mobile App: Houzeo has created a mobile app to help home sellers manage everything on the go. Home sellers use the Houzeo mobile app to list properties, manage showings, review and compare offers, and so on.
Houzeo's Lead Management: Leads are not sold by Houzeo. Every lead associated with your property is meticulously gathered and presented to you.
Houzeo Complaints
The majority of Houzeo reviews that are available online are favorable. We did discover some Houzeo complaints, though. Only 12 of the company's 2,000 reviews are negative. However, Houzeo took these complaints seriously and responded to them quickly.
They accepted their shortcomings and provided a sensible solution.
❌ Inconsistent Listing Brokers
We found two Houzeo complaints from users who liked Houzeo but weren't happy with the listing agent. While praising Houzeo's task manager and document uploader, one user expressed frustration with the listing agent's erratic availability throughout the process. However, Houzeo responded promptly on the same day. The issue was diligently escalated by the company's customer support team to the Customer Success Manager.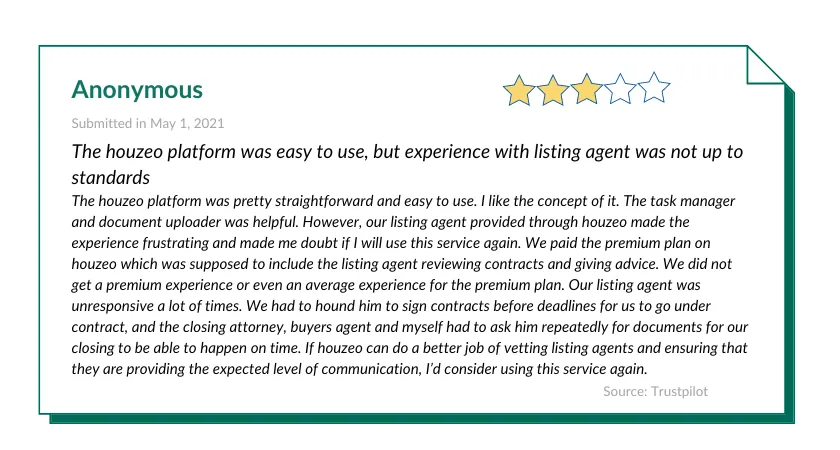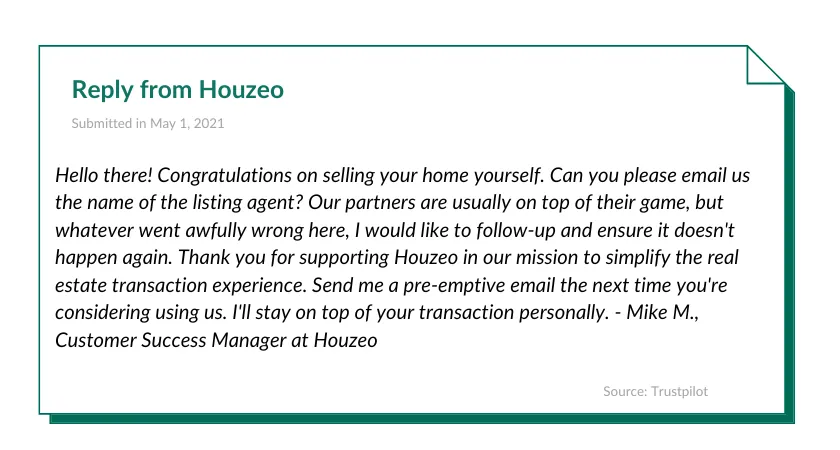 ❌ Miscommunication
Sarah encountered difficulties as a result of the agent's slow response. She sent information that was not on the website. We only found one such review, but the seller was overjoyed with the online assistance and the substantial savings she received from Houzeo.


❌ Compliance Issue and Houzeo's Response
Robert faced a serious issue with compliance, but the company quickly gave him a detailed response to settle the issue.
Houzeo is upfront about its non-compliance fees. Home sellers in various states have cut their commission costs by thousands of dollars thanks to Houzeo's affordable Flat Fee MLS listing packages. Instead of having to pay a listing agent commission of 3%, you only have to pay a small flat fee.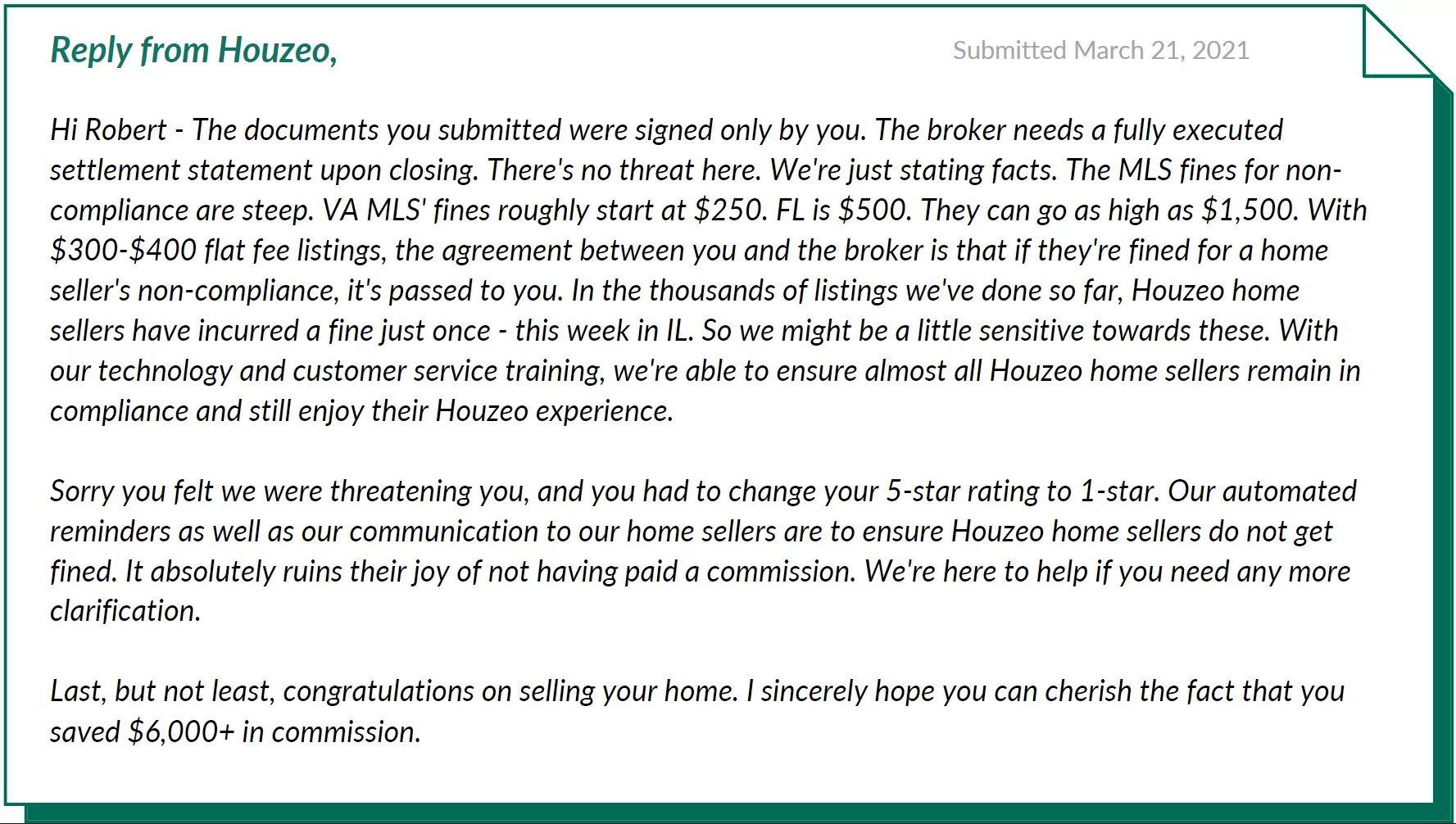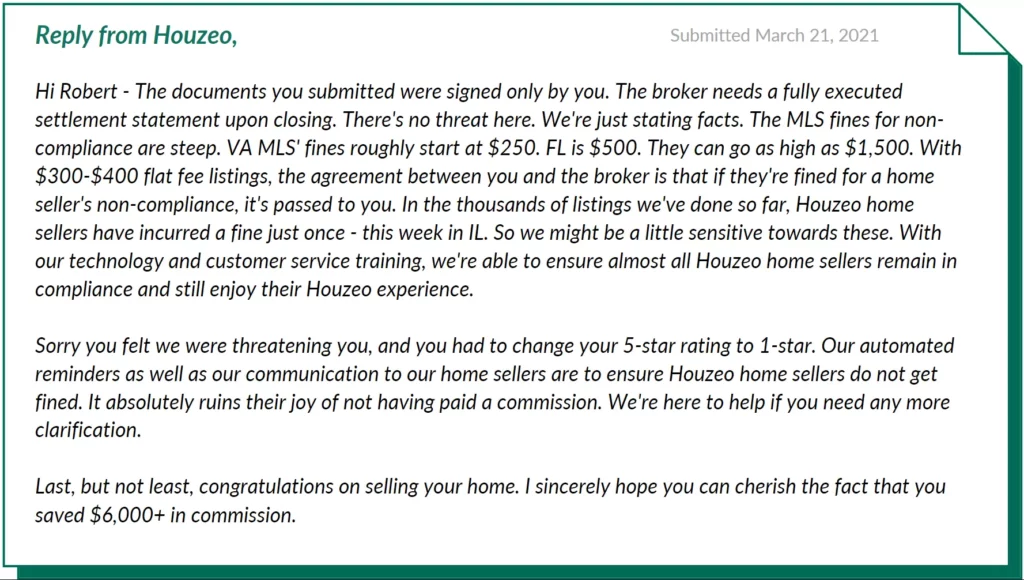 Houzeo Reviews
The best way to know a company's performance is through its reviews.
Here are some customers talking about their good and bad experiences with Houzeo. You can find Houzeo's Trustpilot reviews and Google reviews quite easily. Let's look at these reviews.
✅ Super-Fast Process Impressed First-Time Home Sellers
The simple listing process encourages home sellers to list multiple times with Houzeo. Furthermore, the quick response time of customer service ensures that all questions are answered as soon as possible.
Two first-time customers had different experiences while using the platform. Each gave 5-star Houzeo reviews regardless, here's what Jimmy and Terry had to say.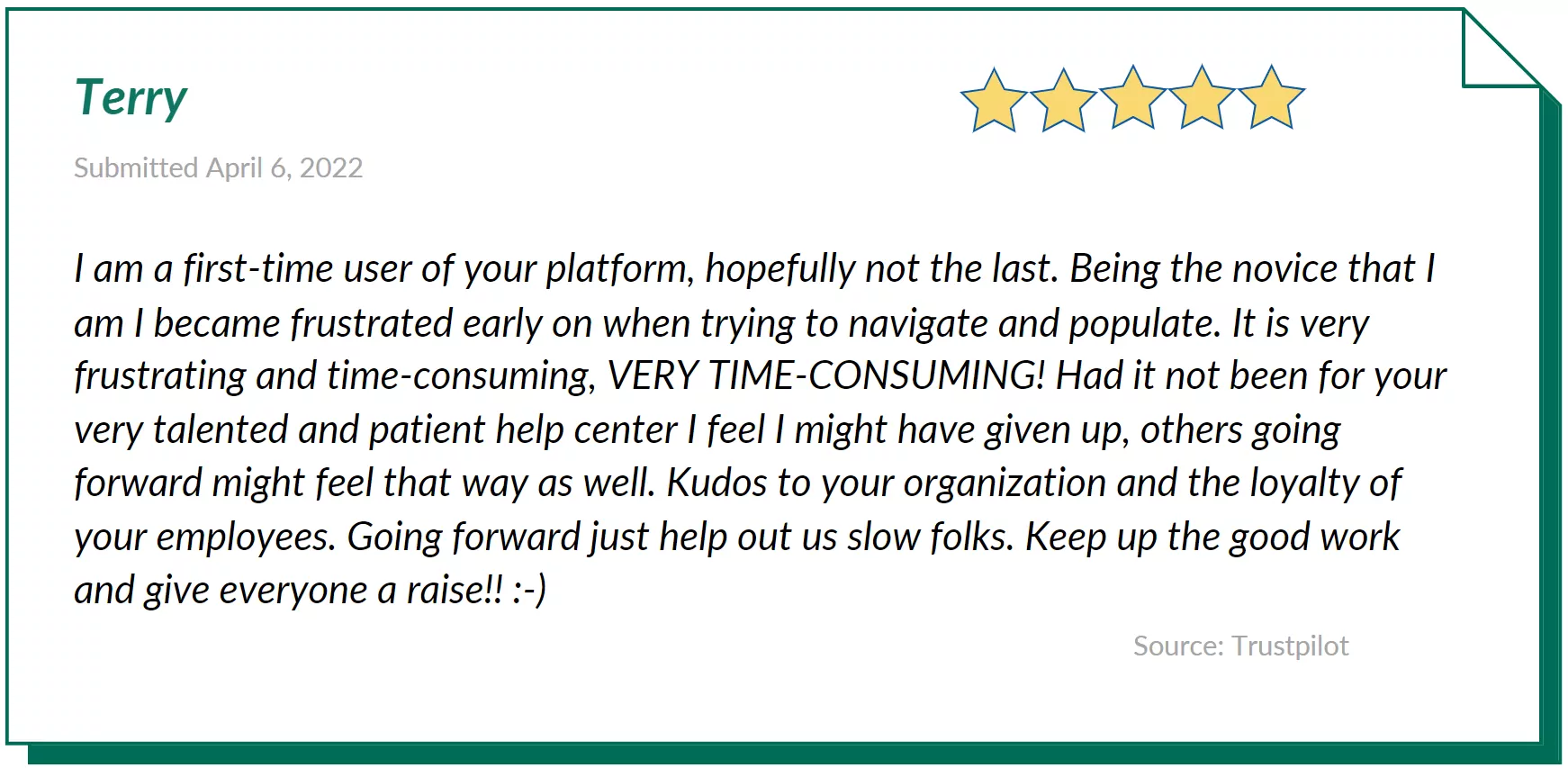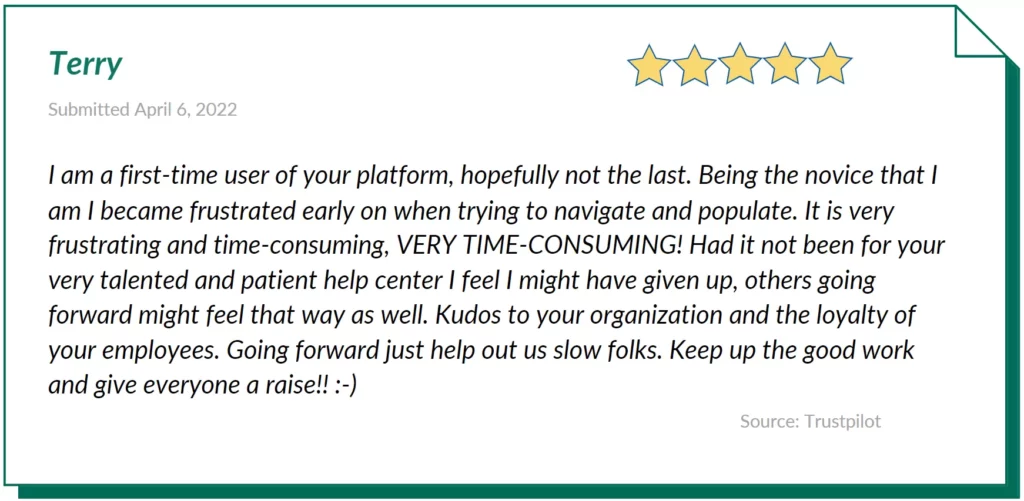 ✅Great Customer Service Drove Home Sellers to List Again
The company's straightforward process and excellent customer service drove many sellers to list again.
You can contact them directly by dialing the Houzeo customer service phone number. Alternatively, you can chat online using the website's chat box. In our experience, representatives respond quickly. We had to provide some basic information to chat online, such as our name, phone number, address, email address, and so on.
We were not flooded with newsletters, PR emails, or phone calls from the company. Their representatives never forced us to purchase their services. This demonstrates Houzeo's genuine dedication to resolving user issues.
Some customers used Houzeo more than once, like Ken & Sophia. Let's have a look at how their experience was.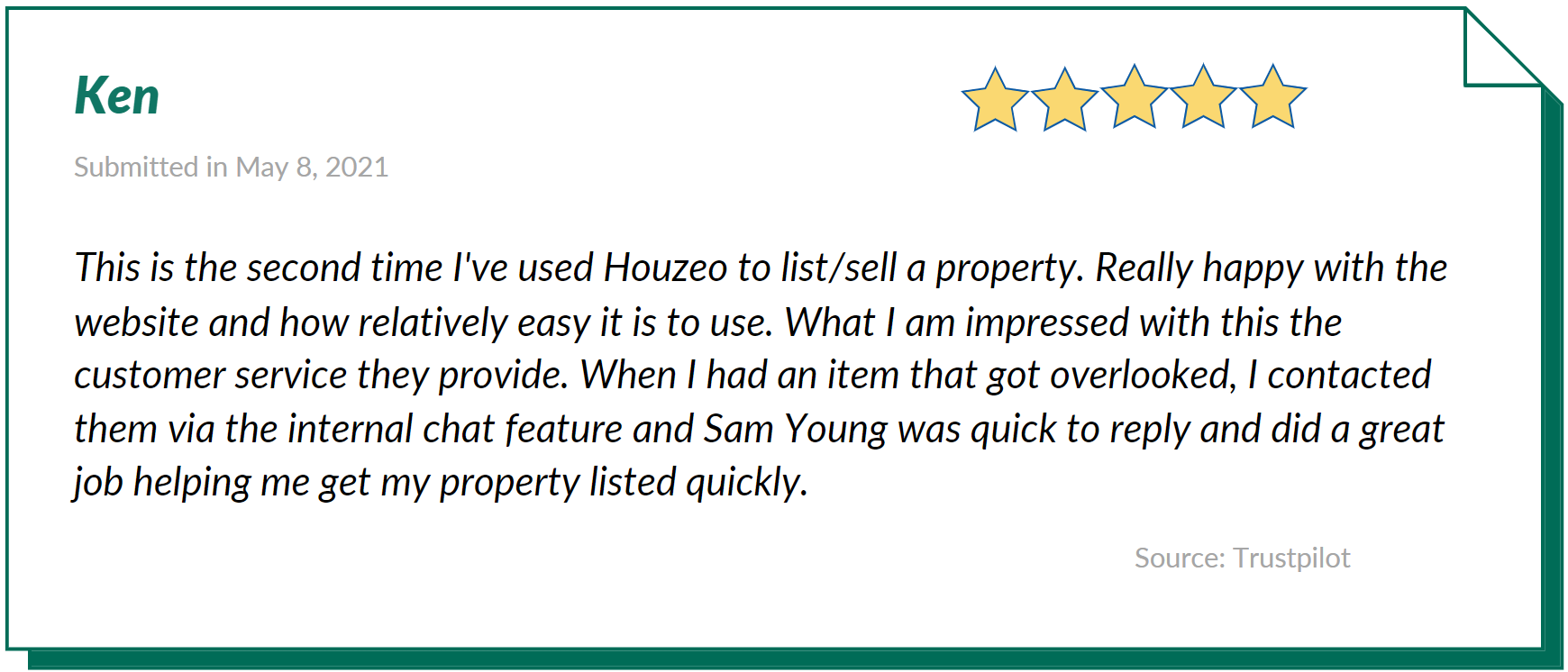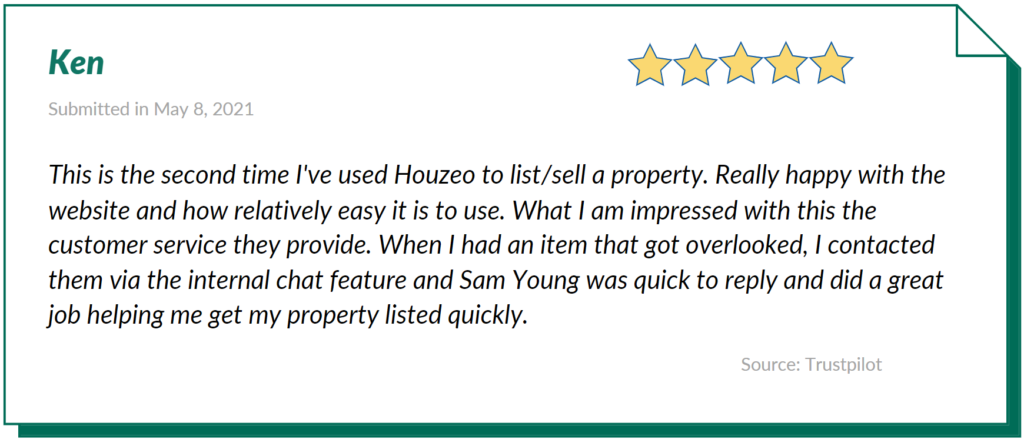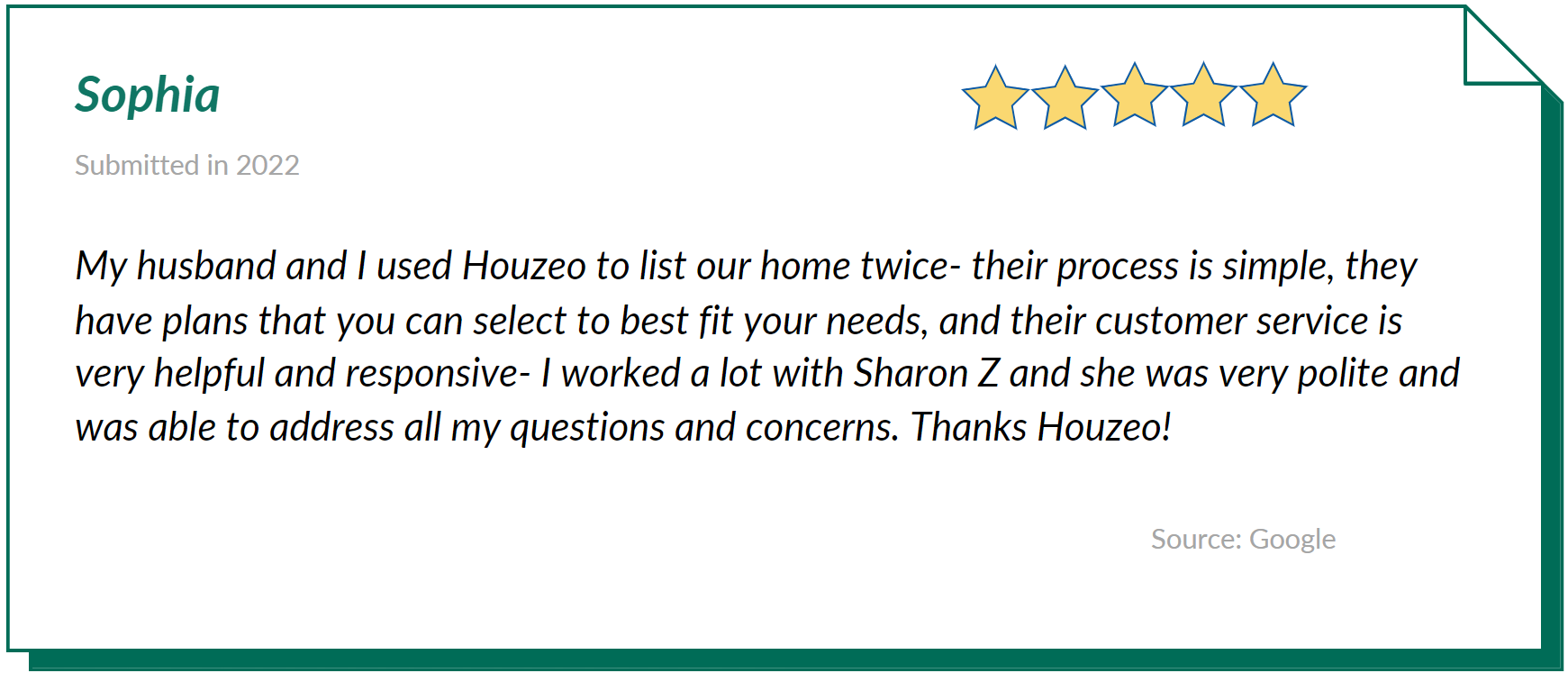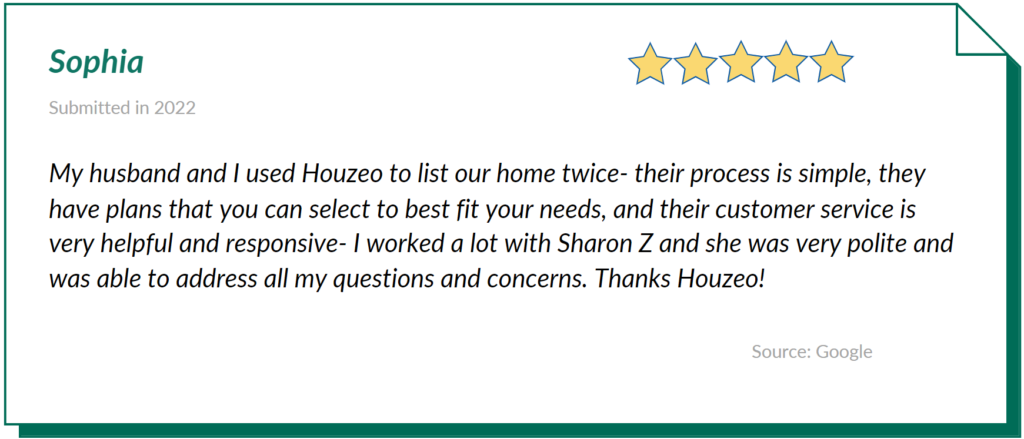 ✅ Home Sellers Keep Recommending Houzeo to Others
We were surprised to see many Houzeo reviews recommending the company to others.
The interface and listing system on Houzeo is user-friendly and accessible. Houzeo completes as much of your listing as it can. A Zillow estimate of the property is displayed on the dashboard. Houzeo gives home sellers tasks to complete after they choose an MLS plan. This involves completing MLS disclosures, contracts, and forms. Your house is listed 24 hours after you finish the tasks assigned to you.
We learned from customer testimonials that Gen Xers and Baby Boomers are listing with Houzeo. We also encountered home sellers who were first-time users of an online service when selling their properties. Houzeo was also simple and handy for them to use. The user-friendly interface and simple navigation of the website are two factors.
Here are some things customers had to say.
Barry liked the simple process and fast results he received for his listing.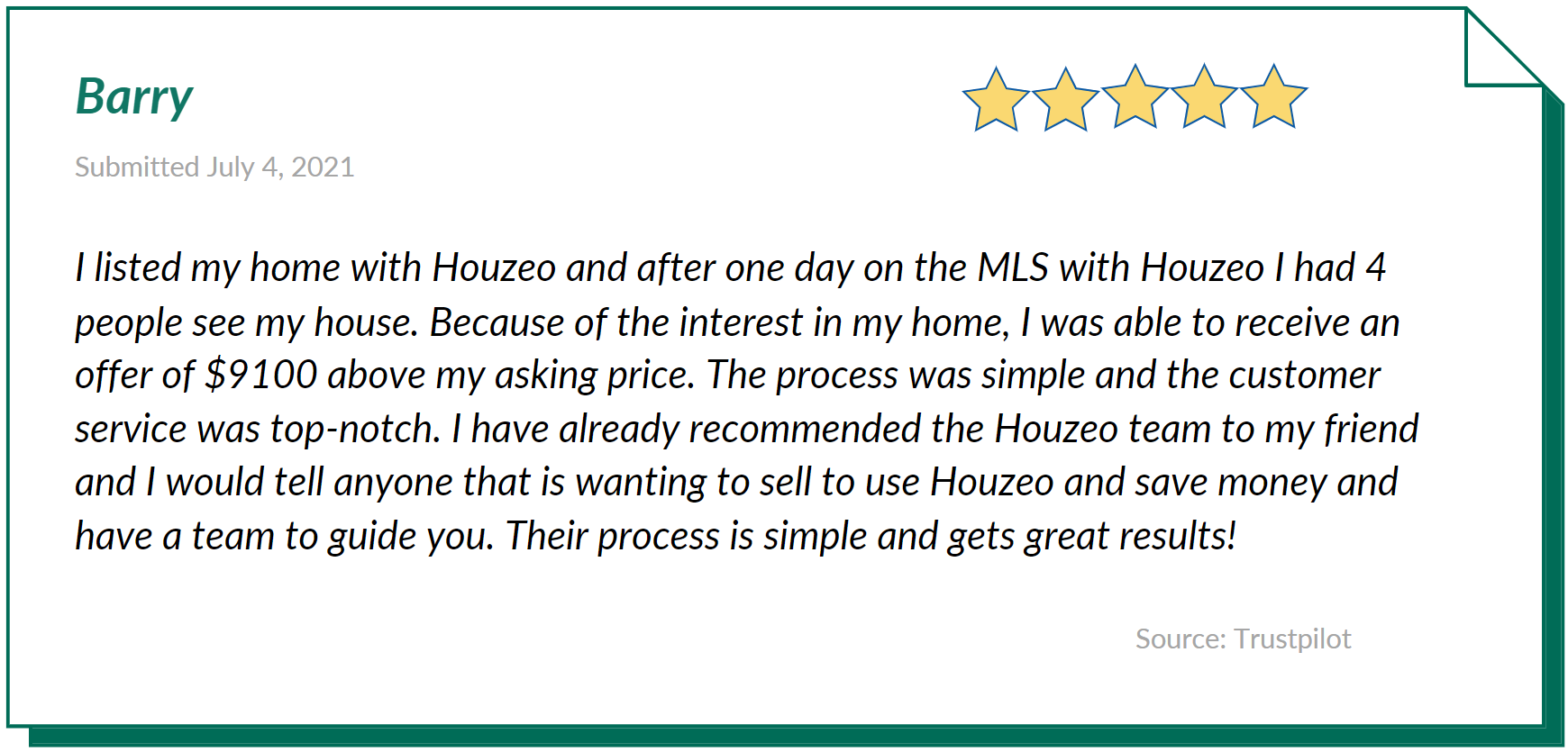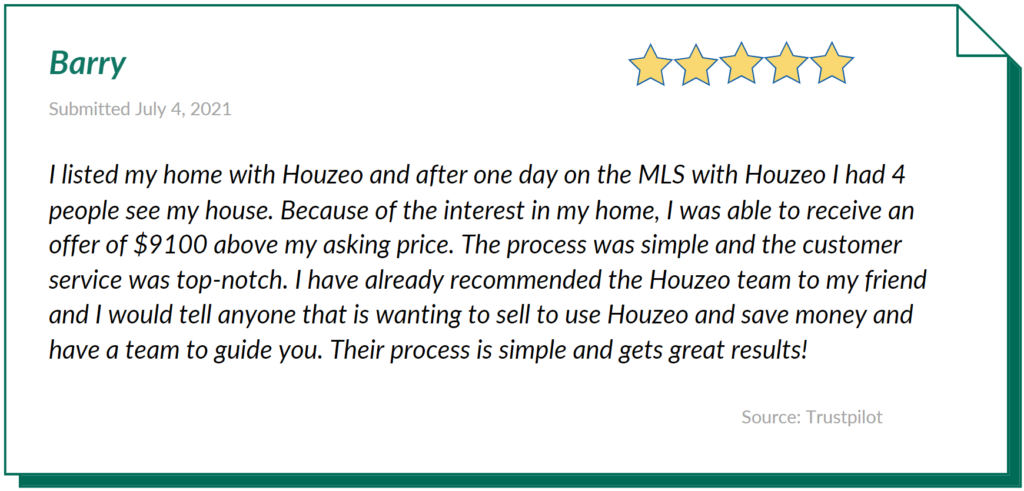 Ben found Houzeo's website very user-friendly!


Cyril & Rhett found the Houzeo team responsive and helpful.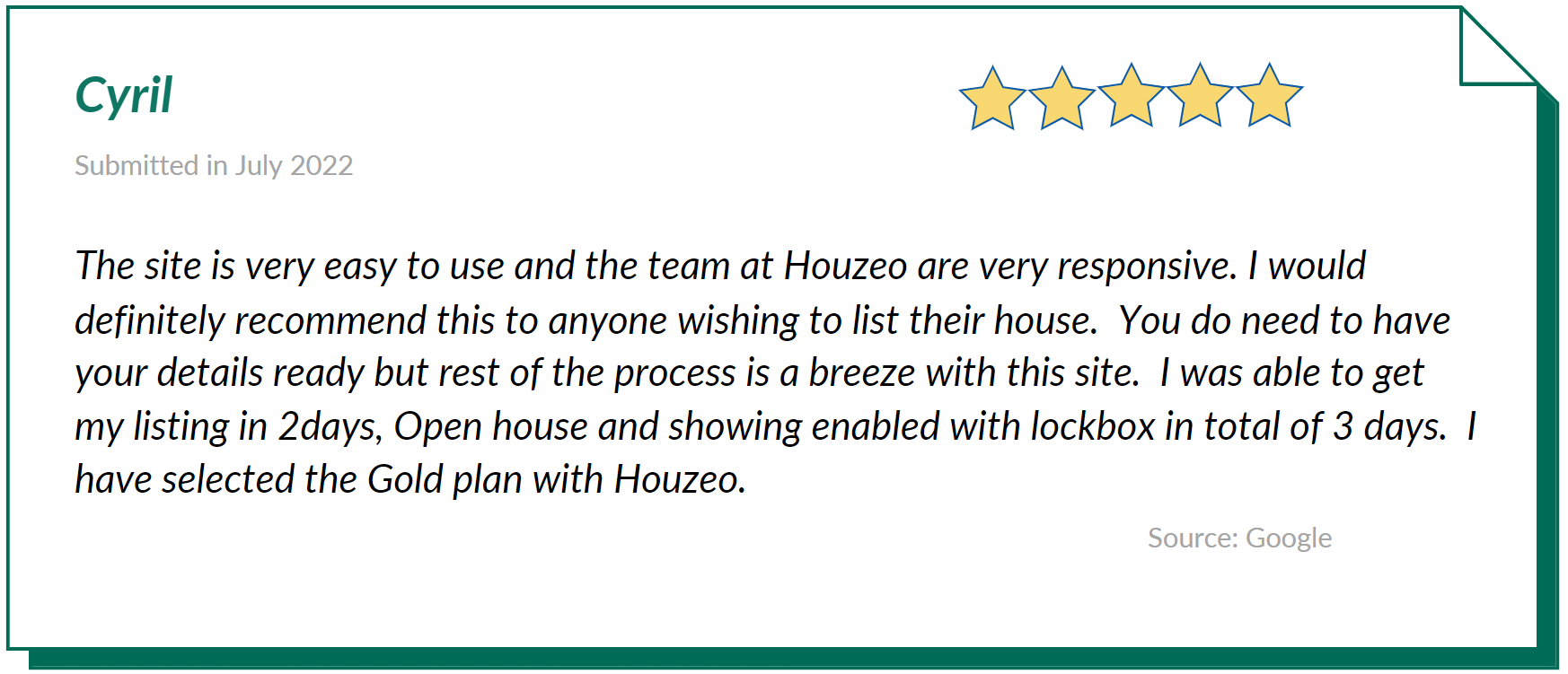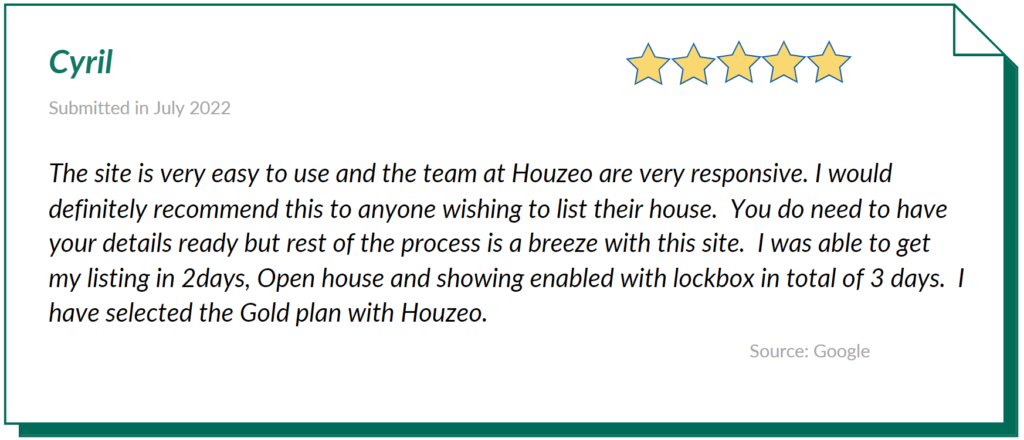 Is Houzeo Worth it?
Yes, Houzeo is a good option for home sellers to looking to save thousands in real estate commissions.
We couldn't think of any reason to recommend against using Houzeo, given its excellent rating of 4.9 out of 5 stars. Furthermore, the vast majority of Houzeo.com reviews on the internet are positive, with very few negative ones.
Houzeo's coverage spans all 50 states, a feat accomplished by only a few other services. Despite of the few Houzeo complaints, the company in comparison has the most positive online reviews. That is why we recommend listing with Houzeo and seamlessly navigating your real estate transaction.
Frequently Asked Questions
1. Is Houzeo free?
A home seller can list their house for free on Houzeo. But to sell your home with the right guidance, it is advisable to buy one of their Flat Fee MLS packages.
2. Is Houzeo available nationwide?
Houzeo is available nationwide and offers cost-effective packages starting at $299.
3. Is Houzeo a good Flat Fee MLS option?
Yes, Houzeo is a good Flat Fee MLS option. The company has done a fair job with its tech and customer service. But, with research, a seller can choose the right company to fulfill all their criteria.
Related: sale by owner websites, sites for sale by owner, cash for homes near me, how to get your home on the mls
Related articles