We Buy Ugly Houses Reviews: Are the Lowball Offers Justified?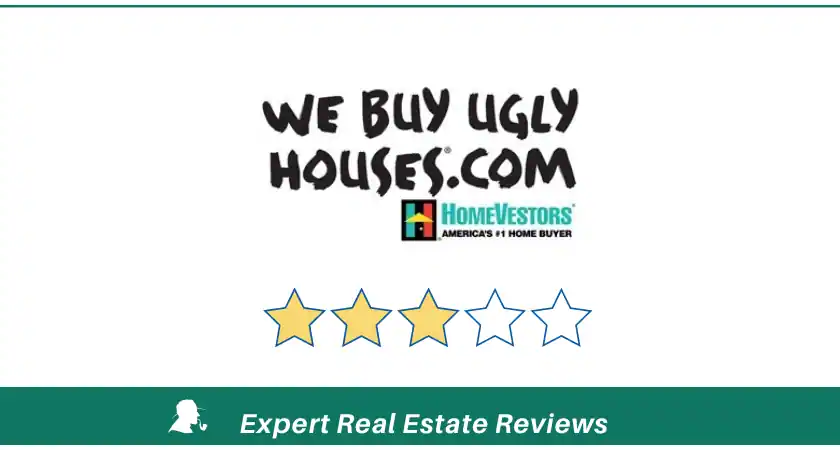 We Buy Ugly Houses provides cash offers for distressed properties, allowing you to sell your home as is without the burden of renovation costs.
However, it's essential to consider that when selling your home to WeBuyUglyHouses.com, you might only receive around 50% to 70% of your home's Fair Market Value (FMV).
On the other hand, choosing to list your property on the MLS through a cash buyer marketplace like Houzeo can potentially fetch you 100% of your property's value. With Houzeo, your listing can be on the MLS within 24 hours, and you can compare offers from multiple national and local cash buyers.
What is We Buy Ugly Houses?
Operating similarly to other cash home-buying companies, We Buy Ugly Houses provides discounted cash offers for unattractive properties. They typically pay between 50% to 70% of their Fair Market Value.
After making necessary repairs, these homes are resold. We Buy Ugly Houses operates as a subsidiary of HomeVestors, functioning under a franchise model where each office is independently owned.
Is We Buy Ugly Houses Legitimate?
We Buy Ugly Houses was founded by their parent company, HomeVestors, in 1996.
Their website states that since their establishment, We Buy Ugly Houses has assisted over 140,000 homeowners sell their properties quickly.
What Types of Homes Does We Buy Ugly Homes Purchase?
We Buy Ugly Houses focuses primarily on properties like:
Properties with structural issues
Homeowners going through a divorce or retirement
Homes facing foreclosure
Inherited houses
You can also opt for We Buy Ugly Houses.com if you don't have a distressed home but want to close on the sale quickly. However, you may lose up to 50% of your property's value.
How Does We Buy Ugly Houses Work?
Obtaining a cash offer from We Buy Ugly Houses follows a simple process:
Reach out to We Buy Ugly Houses: You can call 877-413-4379 or visit their webuyuglyhouses.com. They will ask you for information about your house, including its location, square footage, and features.
Schedule a Home Inspection: The "We Buy Homes" company will conduct a home inspection within 24 hours. After the inspection, you will receive a no-obligation cash offer.
Accept the Cash Offer: If you choose to accept the cash offer, you can proceed by signing a purchase agreement and selecting a closing date.
Receive Cash: Upon finalizing the deal, you can receive cash in hand within 3 weeks.
How Much Does We Buy Ugly Houses Usually Pay?
When purchasing a house, We Buy Ugly Houses typically adheres to the 70% rule. This means they don't pay more than 70% of the After-Repair Value (ARV) to ensure profitability.
To calculate their cash offer, webuyuglyhouses.com employs the formula:
Maximum Offer = ARV x 0.7 – Estimated Repair Costs
This offer is influenced by various factors, including current housing market conditions, local sales data, the type of property, the house's age and condition, and repair costs. Some reviews of We Buy Ugly Houses suggest that this cash home buyer may even extend an offer that is as low as 50% of your home's worth.
We Buy Ugly Houses Reviews
We Buy Ugly Houses.com has received mixed reviews, with a rating of 1.5 out of 5 stars on Yelp based on 7 reviews, and a rating of 3.1 out of 5 stars on Google based on 25 reviews.
While many customer reviews commend this cash buyer for their professionalism and customer support, some We Buy Ugly Houses complaints revolve around their below market value cash offers.
Advantages of We Buy Ugly Houses
This cash buyer offers several advantages over the traditional home-selling process:
Quick Closing: We Buy Ugly Houses can close on your property in as little as 3 weeks, providing a swift and efficient transaction.
Fast Cash Offer: Known for their promptness, they typically extend cash offers within 24-48 hours, allowing you to receive quick cash in hand if you need it urgently.
No Service Fees: When you sell your house to them, they do not charge any service fee, ensuring you keep the full amount of the agreed-upon offer.
Save on Repair and Closing Costs: By selling your home as is to this ugly house buyer, you avoid spending money on repairs. Further, all closing costs are borne by the company, lightening your financial burden.
Disadvantages of We Buy Ugly Houses
Complaints about We Buy Ugly Houses highlight several drawbacks of the company:
Lowball Cash Offers: We Buy Ugly Houses factors in repair costs and estimated profits, resulting in cash offers that may only be around 50% to 70% of your home's Fair Market Value.
No Room for Negotiation: We Buy Ugly Houses typically presents "take-it-or-leave-it" deals, leaving you with limited or no opportunity to negotiate and increase the cash offer.
Inconsistent Quality of Service: Since We Buy Ugly Houses offices are independently owned and operated by local real estate investors, the level of service you experience varies depending on how your local investor guides you through the process.
We Buy Ugly Houses Scams
Due to their rapid all-cash offers and extensive advertising strategy, We Buy Ugly Houses has gained widespread visibility. Unfortunately, this popularity has attracted scams targeting vulnerable home sellers, including:
Wholesaling: Some cash buyers may make an offer on your home and sign a contract. But they may then delay the process and attempt to sell that contract to another investor at a higher price for their own profit.
Ponzi Scheme: An investor associated with a We Buy Ugly Houses office in Colorado bought properties below their Fair Market Value (FMV) and sold them at a profit to pay off previous investors. This scheme was allegedly initiated under the We Buy Ugly Houses banner before being carried out elsewhere.
WeBuyUglyHouses.com Competitors
If you're seeking better alternatives to WeBuyUglyHouses.com for selling your house fast for cash, consider the following three options:
Houzeo: A top FSBO website in America, Houzeo allows you to list your home on the MLS within 24 to 48 hours. Multiple national and local cash home buyers can then make offers on your property, potentially driving up its price. You might even receive 100% of your home's Fair Market Value.
Opendoor: As the largest iBuyer in America, Opendoor extends cash offers for homes that require minimal repairs. While they generally pay around 70% to 80% of your home's FMV, they do deduct a 5% service fee. They also subtract the closing costs and repair costs from the offer.
Sundae Real Estate: Sundae operates as an investor marketplace rather than a conventional "We Buy Houses for Cash" company. Pre-qualified investors place bids and offer cash for rundown homes. In desirable locations, homes may attract multiple cash offers through Sundae's platform.
Is We Buy Ugly Houses Worth It?
We recommend opting for Houzeo instead of We Buy Ugly Houses to get a better value for your home. This cash buyer's significantly lowball offers may result in a loss of your hard-earned money. Further, there is little to no room for negotiation.
Listing your property on the open market with Houzeo's MLS packages can potentially attract better offers from cash buyers. This can even get you top dollar for your property.
Frequently Asked Questions
1. Is We Buy Ugly Houses reputable?
Yes, We Buy Ugly Houses is a reputable cash home buyer that purchased homes across the nation.
2. Is We Buy Ugly Houses a rip off?
We Buy Ugly Houses isn't a scam. But they may rip you off with their lowball offers. Check the We Buy Ugly Houses franchise reviews before you sell your home to this company.
Related: we buy ugly houses signs, webuy ugly houses reviews bbb, reviews for we buy ugly houses, we buy ugly houses franchise reviews, review we buy ugly houses, what is the deal with we buy ugly houses, webuyuglyhouses com reviews, how reliable is we buy ugly houses, we buy ugly houses bbb, does we buy ugly houses pay market value, we buy ugly homes com, we buy ugly houses franchise cost, we buy ugly houses for sale