Clever Real Estate Reviews: Should You List with Clever in 2023?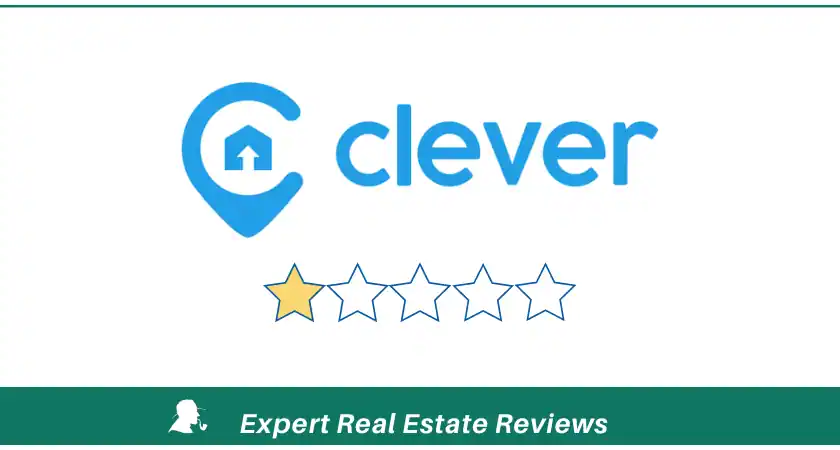 Clever Real Estate functions as a nationwide agent-matching service, acting as an intermediary between users and real estate agents. After registering on their website, Clever sells your contact information as a lead to their partner network.
While they claim to be a 100% free service, they match you with an agent who charges a 1% commission, with an additional 0.5% "Referral Fee" that is not disclosed upfront. This way, Clever earns thousands of dollars without disclosing it earlier.
Moreover, our research indicates potential privacy violations and false advertising practices by Clever.
We recommend that you do not list with Clever Real Estate but instead opt for ethical and legal alternatives like Houzeo. You can save thousands and avoid being taken advantage of.
What is Clever Real Estate?
Clever Real Estate operates as a licensed brokerage in Missouri, but they do not provide conventional brokerage services. Instead, they act as intermediaries, connecting sellers or buyers with real estate agents from firms such as Keller Williams and RE/MAX. These agents then offer their services to sellers at a discounted rate, with a 1.5% listing fee or a minimum of $3,000, as opposed to the standard 3%.
Clever says that these decreased rates may save sellers approximately $7,000. However, this is not necessarily true because sellers are still paying for the buyer agent's expenses. As a result, a Clever house sale may be more costly than the standard selling procedure.
Is Clever Real Estate Legit?
Clever Real Estate Inc. is a legitimate company based in St. Louis, Missouri, established by Benjamin Lee Mizes, Jake Cardenas, Jeremy Decker, and Luke Babich in 2017.
They boast a referral network with more than 14,000 partner agents throughout the United States. However, there is a notable caveat. Listwithclever.com asserts that their agents are not discount brokers. However, our research revealed that several Clever Realtors do function as discount brokers, providing limited services. This raises concerns about the legitimacy of Clever Real Estate's claims.

How Does Clever Real Estate Work?
Companies like Clever follow a similar working process for connecting home sellers or buyers with real estate agents:
Submit Personal and Property Details: Start by completing an online form on Clever's website, providing details about your property type, desired sale price, agent preferences, and closing timeline.
Speak to the Concierge: After form submission, Clever's Concierge Service may reach out to gather additional details or address any questions you may have. This step is optional.
Interview Potential Agent Matches: Clever will sort through their partner agents to identify those best suited to your requirements. You'll have the opportunity to interview them and compare their services. It's crucial to evaluate Clever's pay-to-play agents by reviewing their feedback and ratings.
If you find the agents unsatisfactory, you can request additional matches or choose to end the process immediately.
🚨 Beware: Once you submit the information, Clever captures it and sells it as a lead to their partner network.
Clever Red Flags 🚩
On the surface, Clever may appear as a helpful resource, but upon closer inspection, three significant red flags emerge:
1. Clever is Not a Free Service
While Clever Real Estate may promote itself as a free service, it is essential to note that it is not entirely free. List With Clever.com does not impose direct charges on sellers and buyers; instead, they earn revenue indirectly through their matchmaking services with Clever partner agents.
When Clever sends a lead to a partner agent who successfully converts them into a customer, the agent is expected to pay Clever a service fee ranging from 25% to 40%. This fee has to be paid within 10 days of the closure date.
This Clever Real Estate referral fee is deducted from the commission paid by home sellers and buyers:
| | |
| --- | --- |
| If the home is sold for less than $125,00 | 25% of the gross broker commission |
| If the home is sold for more than $125,000 | Greater of $1,000 or 25% of the gross broker commission |
| If the broker represents the buying side | Up to 40% of the broker's commission |
Source: Clever Real Estate's Service Agreement for Brokers
2. Clever Accesses Your Confidential Documents Without Your Knowledge
After selecting one of Clever's agents, List With Clever no longer remains involved in your transaction. Instead, you collaborate with the pay-to-play broker, who gains access to all your documents, including the ALTA statement.
Clever Real Estate is not supposed to have access to such information, particularly the ALTA statement. However, their Service Agreement For Brokers mandates affiliated brokers to share the ALTA statement.
This raises concerns about privacy protections, potentially undermining consumers' rights under the Gramm-Leach-Bliley Act (GLBA) (sections 502(e)(1) and 509(7)(A)).
Source: Clever Service Agreement for Brokers
3. Clever Has Numerous False Advertisements
Clever misleadingly advertises itself as a 100% free platform and presents a facade of being an impartial educational resource. However, upon closer examination, it becomes evident that every blog post either serves as self-promotion or redirects users to sub-par partners from whom Clever receives a referral fee.
In instances where Clever gains no direct benefits, they recommend over-priced alternatives that can cost users thousands of dollars in fees. Opting for one of Clever's alternatives, which provides comparable services at a more affordable rate, would be a more prudent choice.
Clever Real Estate Reviews
Despite List With Clever.com receiving a respectable rating on several review platforms, our investigation has uncovered several irregularities in their services.
List With Clever complaints frequently focus on agents giving limited assistance in the house-selling process, resulting in seller unhappiness. Numerous evaluations also show that some sellers were forced to sell their properties for less than market value, raising worries about the platform's overall efficacy.
List With Clever.com Advantages
Here are some advantages of choosing Clever as your partner in the home selling process:
Discounted Listing Cost: Clever works with full-service brokers that charge a 1.5% listing cost rather than the normal 3%. This leads to significant commission savings, totaling to thousands of dollars.
Nationwide Coverage: List With Clever has a large agent network of over 14,000 brokers dispersed across the country, guaranteeing that their services are available nationwide.
List With Clever.com Disadvantages:
Here are some of the risks associated with dealing with Clever Real Estate:
Inconsistent Agent Service Quality: Clever acts as a matchmaker between you and an agent, with no assurances about the agent's service or the success of your home-selling transaction. As a result, you must conduct your own due diligence on the agent.
Houses Sold Below Market Value: Numerous Clever Real Estate reviews suggest that its partner agents frequently sell houses below market value, resulting in a loss of equity when listed with Clever.
False Advertising: Clever Real Estate's marketing says that their services are provided for free, which is not totally truthful. Instead, they charge brokers a large 25% to 40% service fee upon concluding a deal.
Federal Antitrust Law Violations: List With Clever allegedly engages in fixing commissions with clients before entering into any real estate transaction, thereby violating Federal Antitrust laws by eliminating the possibility of negotiation.
Clever Real Estate Competitors
We suggest three Clever Real Estate options that provide superior services:
1. Houzeo vs. Clever:
Choosing an agent recommended by Clever may appear to be a handy option, but it comes with the danger of working with a broker who is not as dedicated to the process as you are. You will also be forced to pay them a 1.5% commission.
In contrast, with Houzeo's Silver plan, an MLS listing provides you with advanced technologies often reserved for real estate professionals, all for $399.
2. UpNest vs. Clever:
UpNest works as an agent-matching service, allowing you to choose your preferred agent. On UpNest, many brokers pitch their commissions, enabling you to select the one that best matches your budget.
In contrast, Clever's method matches you with an appropriate agent, which may limit your influence over your home-selling experience.
3. Redfin vs. Clever:
Redfin is a discount real estate broker that provides home-selling services for a 1.5% fee on the sale price. They serve more than 100 real estate markets in 49 states.
Redfin, like Clever, charges the same commission rate. However, it is important to note that Redfin takes privacy seriously and is committed to preventing unauthorized access to or distribution of your personal papers, such as the ALTA statement, to any third party.
Is Clever Real Estate Worth It?
We strongly advise against using Clever Real Estate to find your realtor. While Clever offers a commission, the quality of service from their partner agents often reflects this discount. Clever can not guarantee the level of service you will receive, nor does it accept responsibility for the activities of your agent.
According to some List With Clever reviews, partner agents may put pressure on you to sell your house for less than its market worth. Concerns regarding privacy issues, commission rigging, and restricted bargaining choices also contribute to the decision not to List With Clever.
Instead, consider selling your home on your terms with Houzeo. With Houzeo, you can list your property on the MLS, manage showings, call for the highest and best offers, and even counter them—all for just $399.
Frequently Asked Questions
1. Is Clever better than Redfin?
According to our analysis, Redfin is a superior option than Clever. While both organizations charge the same fee, multiple reviews praise Redfin agents for their excellent service. Furthermore, unlike Clever, Redfin does not offer any privacy risks.
Related Keywords: listwithclever reviews, clever homes cost, move with clever, clever realty reviews, reviews on clever real estate, clever seller, clever pricing, clever deal, clever for real estate agents, clever leads, clever real estate bbb, reviews clever real estate, clever real.estate, clever seller reviews, clever real estate referrals, clever real estate leads, clever real estate google reviews, is clever real estate legitimate, clever real estate reviews yelp, clever real estate, cleverseller, clever real estate reviews reddit, cleaver real estate, listwithclever com, cleverseller reviews, clever agent reviews, clever real estate headlines